The Score rolls out new personalized Feed
Benjie Levy, president and COO at the company, on its new app update, which will allow The Score to start including additional native advertising options.
The Score has announced the rollout of a new personalized stream to its app called Feed. The addition, which was added to iOS in late December, will also be available to app users on Android within the coming weeks.
Feed, which gives users the ability to pick the teams and players they most want to see, was presented to investors and employees at The Score's annual general meeting late last week, its first since selling off its television assets to Rogers Media in 2013.
Benjie Levy, president and COO, The Score, tells MiC the new app stream, which is powered by push alerts, gives the media co the opportunity to dive deeper into the native advertising space because of the personalized nature of the content going to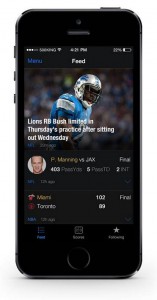 users.
The company posted a quarterly revenue of $2.1 million for the three months which ended Nov. 30, 2013, the end of its Q1 for fiscal 2014, compared with $1.5 million for the same period in 2013. It also posted a EBITDA loss of $2.3 million for the three-month period, compared with a loss of $2.1 million for the same months in 2013. The increase in expenses was due to a jump in marketing and promotional efforts during the period and increased corporate and personnel costs, according to a release.
Average monthly active users of The Score's mobile platforms reached 4.8 million globally in the first fiscal quarter of 2014, up 48% compared from the same period in 2013. Levy says that while he can't break out Canadian numbers from that mix, they make up about 30% of the total number.
He added that during the AGM, The Score, which sees its audience skew towards males over the age of 18, often sees over two million unique users on the app on NFL Sundays, with some visiting the app more than 200 times a day.
In addition to Feed, The Score will be diving deeper into lesser developed content areas for the brand, like the Sochi 2014 Olympic Winter Games this February and increased soccer coverage gearing up for the FIFA World Cup 2014 in June.