Small businesses we'd tune in for
On the heels of shows like Timber Kings and Pawn Stars, we break down who else has reality show potential.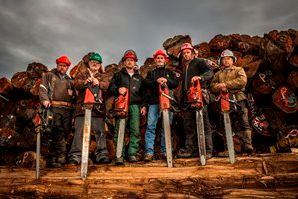 Small business owners, often with unusual specialties, are fast becoming stars of the small screen.
Timber Kings, Shaw Media's HGTV show that premiered in January, is a, er, wood-solid example, taking viewers behind the luxury log home building scenes in Williams Lake, B.C. It joins a group of U.S. series, such as Pawn Stars, where featured businesses report five-times higher sales, and TV producers and the companies are both cashing in. You'd expect more companies and networks would want in, so we went hunting for some Canadian cos that seem destined for TV fan-dom.
Jelly tycoons
Designer donuts are all the rage and we're willing to bet they're piping hot enough for a show taking viewers into the donut-fryer pressure of ensuring the treats meet clients' expectations. We propose featuring Food Network's Donut Showdown winner, Calgary-based Jelly Modern Doughnuts, and a CPG coffee company like Nabob as a partner.
Floatplane barons
Being a floatplane-operator seems like a dangerous job (there were four crashes between 2008 and 2010 in British Columbia), and that fear factor should make for captivating TV. For people with no intention of flying this way, seeing the inner workings of a floatplane company would be fascinating. A deodorant brand like Degree could sponsor and promote the show with a virtual plane app to test if users stay cool under pressure.
Sugar Shack
With Sony planning a film based on the great maple syrup caper in 2012 in Quebec, now seems like a sweet moment to capitalize on the attention the sticky substance is getting. A show about running a small-scale shack in Quebec would have consumers craving a second helping. A frozen-waffle brand like Eggo would be a logical choice for a partnership, with Kellogg's "planting" a Twitter-powered maple "tree" in Toronto's Yonge-Dundas Square for the experiential.
From strategy's February/March issue