NHL will make Rogers top for sports
The media co told the CRTC in closing remarks during licence renewal hearings that it expects hockey to bump it to the top sports spot in Canada.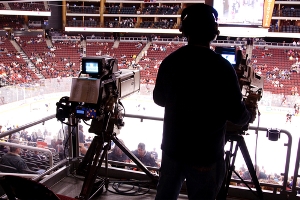 Rogers Media ended its licence renewal hearings last week by saying it expects the addition of NHL programming to its specialty channels to make it to the top destination for sports in Canada.
"After 30 years… Sportsnet will displace TSN as Canada's sports leader," Keith Pelley, president at Rogers Media told the CRTC.
The media co also closed the hearings by addressing concerns from rivals, saying it will not use NHL hockey telecasts on City for local commitments or content.
"As far as the concerns that have been outlined by several interveners that we will use NHL hockey to satisfy our local commitments on City, we are prepared to make it a condition of licence that we will not use any NHL hockey or in fact any professional sports, either live games or pre- and post-shows to go towards our local exhibition on City," Rogers Media president Keith Pelley told the regulator in closing remarks during licence renewal hearings.
The CRTC earlier heard from industry players warning Rogers Media, which picked up the exclusive NHL rights for Canada from next season, will use hockey content to count towards its Canadian programming expenditures.
The NHL deal would bring benefits to City, Pelley added.
"[NHL coverage] will provide a significant boost to City television by giving us the opportunity to reduce our reliance on US programming and giving us a promotional platform for all our programming that we have never had before," he argued, with an eye to easing City's advertising revenue woes.
Camera image courtesy of Shutterstock 
From Playback Daily