Yellow Pages' dominating new mobile app campaign
Hyper-local campaign expands into new markets to show off the company's vast cultural insight.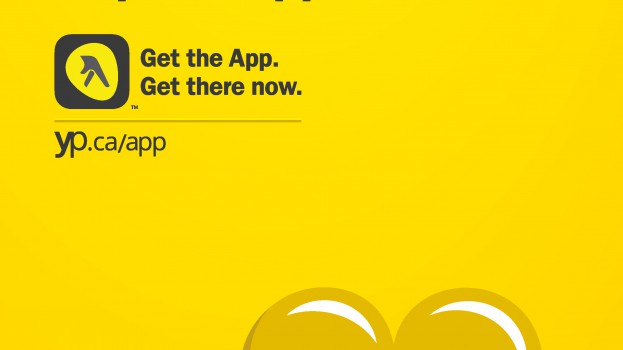 Yellow Pages is proving that they can still help you find exactly what you're looking for, no matter where you are.
The campaign, which began on June 2 and will run until the end of July, promotes Yellow Pages' mobile app by showing off how easily they can tap into their expertise of Canada's major cities. They are doing this with cheeky, hyper-local ads that highlight exactly what products, services and culture are available in the neighbourhoods in which they appear, or how to get to ones that have what people are looking for.
The most eye-grabbing and ubiquitous segment of the campaign is the transit advertising, with display ads in subway stations, bus shelters and on the sides of vehicles.
Yellow Pages has also begun to roll out full-page print ads in Metro newspapers and the cities' respective cultural magazines and alt-weeklies. The OOH side will also have a presence in patios, restopubs, and gyms, and will also feature night projections, billboards and displays on digital screens.
If that seems like a lot, that's because it's exactly what Yellow Pages was going for.
"Our philosophy in advertising is not complicated," Andre Leblanc, director of marketing communications at Yellow Pages Group, tells MiC. "We're not going to go into a market unless we have a totally dominant campaign."
There are nearly 350 unique, location-specific ads across Toronto, an increase of 25% in media intensity from the similar campaign the company ran in the city last year. This includes a total takeover of St. George and Dundas subway stations, covering all display surfaces, with additional creative on steps and wrapped pillars.
"The recall numbers were through the roof," Leblanc says of last year's success. "The ultra-relevance of the campaign was extremely appreciated. We're already observing the same thing this time around."
Based on that success, Yellow Pages has expanded into new markets. There will be 250 unique ads in Montreal, 200 in Vancouver and 150 in Calgary.
"The level of dominance that you're seeing is equal in those four cities," Leblanc says. "We tried to put together strategies in other markets that had that dominating type of effect."
While Yellow Pages couldn't do the kind of takeovers in the other markets as they did in Toronto's subway stations, they are trying to achieve a similar level of reach at city-specific events like the Calgary Stampede and Vancouver's outdoor Summer Cinema Series.
The creative for a campaign like this, handled by Leo Burnett Toronto, involves a massive amount of knowledge and insight into the "live, work, play" scene not just in the cities, but within specific neighborhoods. In Vancouver and Calgary, Leo Burnett tapped into the insight of local copywriters and the Montreal-based team at Yellow Pages were able to inject their own experience into creative.
A campaign of this scale is obviously meant to get in front of as many eyes as possible, but the tongue-in-cheek nature of the creative and tie-in to the Yellow Pages smartphone app means that the appeal is for a specific kind of citizen.
"It has appeal for millennials of course, but we're also trying to target what I've heard called 'Generation WiFi,'" Leblanc says. "It's a demographic more based on psychographic aspects than age. They're a little bit older, perhaps, but they're still very much plugged in."
No longer just a thick book that lands on your doorstep once a year, Yellow Pages has been able to show that they are still relevant and useful in a digital age.
"Yellow Pages is going through this transformation from a print company to a leader in digital marketing and digital platforms," Leblanc says.