World Cup by the numbers: who was watching, and how
The CBC reports that an average of 4.9 million tuned into the final game on Sunday, making it the most watched match in Canadian World Cup history.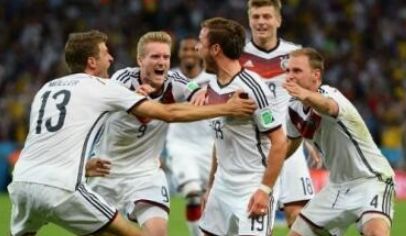 Sunday's 2014 FIFA World Cup Brazil closing game between Germany and Argentina was watched by an average of 4.9 million Canadians, making it the most watched match of the tournament for the pubcaster.
The game, which saw Germany defeating Argentina 1-0 in extra time, also bested numbers from the 2010 tournament to make the game the most watched in recorded Canadian FIFA World Cup history. Audience numbers for the game peaked at 7.4 million around 5:35 p.m. in the final minute of play. Overall, more than 11.3 million Canadians tuned in for at least part of the game, with almost 500,000 watching on a digital platform.
ICI Radio-Canada Télé's French-language television broadcast of the final match was seen by an average of 843,000 viewers, an increase of 48% compared to the 2010 final match.
Saturday's third place game was watched by an average audience of 2.3 million, an increase of 37% over the 2010 match.
The 2014 FIFA World Cup Brazil saw an average audience of almost 1.7 million viewers for live games during the tournament, besting 2010 numbers by 39% on the CBC. Overall the CBC reports that nearly 89% (30.7 million) of the Canadian population tuned into some piece of tournament coverage across TV and online platforms.
Canadians logged 13.5 million hours of video viewing across digital platforms during the tournament, with 6.6 million tuning into a live game online. The CBC's FIFA World Cup App in partnership with Bell was downloaded more than 1.1 million times.
In person, more than 30,000 Canadians visited the CIBC Soccer Nation events across the country, culminating with a party in Toronto on Sunday at the CBC's headquarters.
The reach of the World Cup was huge across social media. Worldwide, Facebook reports that 350 million people talked about the World Cup on the network, generating over three billion interactions. On Twitter, 672 million tweets were sent about the tournament, with over 618,000 sent per minute when the last whistle was blown on the Germany-Argentina final.
With files from Josh Kolm
Image courtesy of CBC