GroupM posts optimistic global forecast
Global ad spend is predicted to bounce back to pre-recession levels in 2015, and a look at the Canadian platforms and brands that spent the most last year.
GroupM has released its latest "This Year, Next Year" ad forecast, predicting that ad spend will return to pre-recession 2007 levels for the first time in 2015 in its early global numbers.
That optimistic forecast is not going to hit the North American market until 2019 though, as that market along with Europe and Asia are growing more slowly than the smaller markets that were less affected by the recession.
GroupM predicts that globally ad spend will grow at 4.5% in 2014, up from 3.5% in 2013. Overall the company says that while ad spend on TV is slowly eroding, it still holds the majority share, coming in at 44% of all investment. It says that the growing popularity of on-demand viewing is the most highly reported trend globally at GroupM, but adds those audiences are less well-measured than the ones on traditional TV, and that the OTT services are far from "disrupting" linear TV.
In Canada media spend was up 1.8% in 2012, and is expected to rise 2% in 2014. That forecast remains stable for 2015, with expectations that the market will grow 2.1% for the year.
The brands that spent the most in Canada for 2013: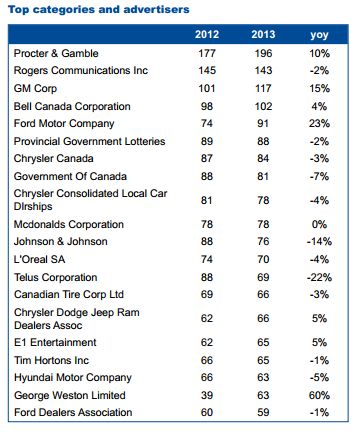 The sectors that saw the most Canadian ad placement in 2013: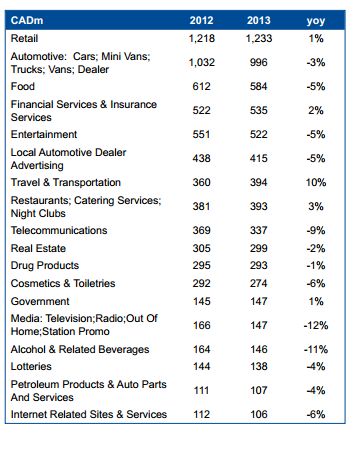 Canadian media spend from 2007 to predictions for 2015:

Image courtesy of Shutterstock