Elle Canada and Hudson's Bay partner for test project
The TC Media magazine has teamed with the retailer for a first for both brands, creating a set of five videos that allow viewers to shop from the spots.
TC Media's Elle Canada has partnered with Hudson's Bay to launch a set of five shoppable videos where people watching the clips can click-to-buy items shown on Canadian model Pamela Bernier.
Centred on the tagline/hashtag "#ShopYourMood," the videos, which were directed  by Arkan Zakharov and styled by Juliana Schiavinatto, are each themed around a mood  (happy, romantic, powerful, relaxed and rebellious).
Jacqueline Loch, VP and group publisher, TC Media, tells MiC that the project was a combination of efforts from the sales side, which wanted to create a new option for Hudson's Bay that would drive e-commerce, and the editorial team that was looking to create some high-end videos.
While she won't reveal specific dollar amounts, Loch says all five videos combined cost a fraction of the cost of one commercial TV spot.
The partnership broke down to have Hudson's Bay providing the back-end of the e-commerce side of the site and Elle Canada selecting the merchandise it thought would best engage its readership. Content from the series can be accessed through the magazine's website, iPad edition or in its print pages. If readers are looking at the content in print they need to download the free Viewa app in order to scan the page and watch the videos. iPhone users will also have to download the wireWAX app.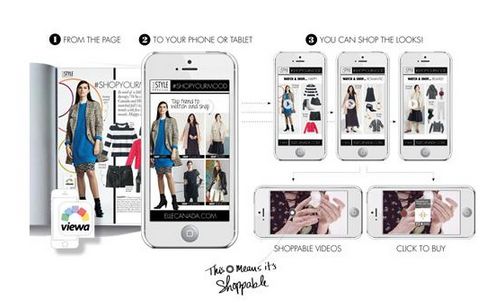 Loch says both parties are treating the videos as a test project, expecting them to deliver two to three times the investment that Hudson's Bay put into the videos. She adds this is the first time the magazine has done a video series like this, with now being the right time because mobile and tablet penetration has reached a point where the project will be picked up enough to justify the cost of making it.
The video series is being promoted across mobile, digital and print for the magazine, as well as a new responsive ad unit on Elle Canada's website. The unit appears as readers scroll down pages on the website, adjusting to fit the entire screen with a video ad. Readers then have the option of continuing to scroll down the page of content or clicking on the ad for more information.
Elle Canada is also promoting the series with a contest in partnership with Hudson's Bay appearing in the magazine's September issue. One reader will win a $5,000 shopping spree at Hudson's Bay. On Sept. 6 Hudson's Bay will be hosting an in-store event in Calgary with Elle Canada and Elle Québec fashion and market editor Anthony Mitropoulos.