Canada gets a national food magazine
Following the lead of the French edition, the English version of Ricardo gets cooking, with a goal of 50,000 subscribers in its first year.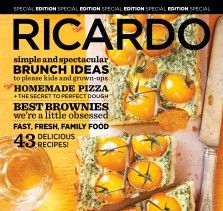 The English edition of food magazine Ricardo hits newsstands next month, and aims to reverse the trend of investing less in print as the only path to a publication's sustainability.
Based on the French magazine launched by celebrity chef Ricardo Larrivée in 2002, the English edition focuses on food, health and cooking at home and will be Canada's first national food magazine when the first issue comes out on Sept. 15.
Both editions of the magazine are published by Ricardo Media, which Larrivée co-owns with his wife, Brigitte. Based in Montreal, the company also produces the French-language Radio-Canada show Ricardo, the internationally–broadcast English Food Network show Ricardo and Friends and the bilingual Ricardo Cuisine website. Because Larrivée is a globally known personality through his work online and on TV, the English edition of Ricardo is also the first step to eventually taking the publication international, according to Marie-José Desmarais, publisher and director on international brand development at Ricardo Media.
Desmarais joined Ricardo Media in January, leaving her post as publisher and editor-in-chief of Châtelaine. She was also the founding editor of LOULOU magazine. Despite the risks that come with print publications, she says the French edition of Ricardo has seen an average audience growth of 30% over the last three years. She attributes this to food being a strong-performing vertical on all platforms, but also because Ricardo offers a multi-platform approach that doesn't sacrifice the quality of the print product.
"I think if you look at the landscape right now, a lot of publications are their own worst enemies because most seem to not believe in print," she tells MiC. "A lot of them are investing more heavily in digital at the expense of print. You're seeing decreased book sizes and paper quality, partially because these are tough times and there's a desire to protect bottom lines. But in some cases, it impacts the quality of the product."
With an emphasis on strong visuals and design, Ricardo is printed on high-quality paper stock. The newsstand price is $6.99.
"Food magazines don't get thrown away. Readers keep them," Desmarais says. "Ricardo is like a mini cookbook – there's incredibly high value for customers."
While content like recipes will be translated from the French version, most of the editorial content between the two editions will be unique.
"We are creating a magazine that is adapted for the whole Canadian population out of respect for people we're reaching," Desmarais says. "It's not just a language or translation issue, because the reality of how we eat is there are cultural references that are different."
One of the ways the magazine is doing that is through a team of contributors working exclusively for the English edition. They include Toronto Star food columnist Corey Mintz writing on entertaining, dietitian and National Post nutrition columnist Jennifer Sygo on health, sommelier John Szabo and House & Home food editor Eric Velland on wine.
There will be three issues of the English edition before the end of 2014, with six issues slated to come out in 2015. Nearly twelve years in, the French version of Ricardo has an average paid circulation of 100,000 every issue. For the English edition, Desmarais says it is aiming for a paid circulation of 50,000 for the first year as it establishes its audience. The magazine's target market is 25- to 54-year-old females, but Desmarais says that the magazine's content is gender-neutral, and 31% of French readers are male.
The website generates 1.8 million unique visitors monthly between its French version and the English version that launched in 2010.
Desmarais says that Ricardo has a maximum of 30% advertising in every issue, and there are both opportunities and strict requirements for any advertiser hoping to have a presence in the magazine. Larrivée does not endorse products, and Desmarais says that advertising is set up so it does not break the flow of reading and provides some informative value to a reader.