The Verdict: Go RVing gets digital
The number of young RV owners has doubled over the past five years. To reach that group, Go RVing Canada shifted its spending to a pair of online video campaigns.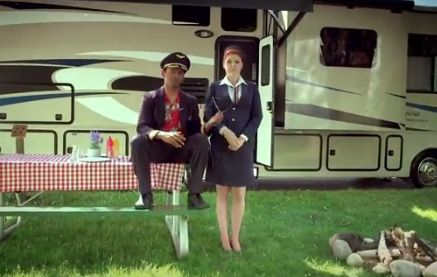 In Canada, 14% of households own an RV, and the number of those under the age of 54 has doubled over the last five years. To reach that growing market, Go RVing Canada launched two video campaigns this summer intended to break expectations.
Go RVing Canada is a non-profit organization of manufacturers, retailers and enthusiasts that promote RVs and the associated lifestyle. The org has mostly done television campaigns in the past, but this summer, it shifted a more significant portion of its media spending to digital platforms.
"We've done some digital things before, but never any video content," Chris Mahony, executive director at Go RVing Canada, tells MiC. "We decided to do two separate campaigns because we wanted to tackle two different areas."
The first campaign, "Revealing the Truth About RVing," ran from May until July. It was targeted at families and meant to dispel misconceptions about RVing, such as that they are uncomfortable, unaffordable and only used by older people and retirees. The centrepiece was the "I couldn't get enough" video, which starts off as a dark, confessional-style video which eventually reveals that the subject is actually talking about how much he enjoyed the RV lifestyle once he gave it a shot.
Edelman Canada worked directly with Google to deliver the video, which earned 9.5 million impressions and 3.6 million completed video views. Edelman also ran a PR program that pushed quotes and stories through Go RVing's social media and on its website.
The second campaign, "Be a Lover Not a Hater," was a comedic video series developed with help from Second City Communications and Weber Shandwick to further appeal to that younger potential RV owner.
Each episode of the series featured comedic characters – the pilot and flight attendant, the backwoods slasher-movie villain, the retiree – explaining how they were turned from a hater to a lover of RVing. The campaign was also meant to drive traffic to the website, where people could sign up for a contest to win a $10,000 RV. Go RVing worked with Blue Ant Media to target the videos through its multi-channel network.
Videos for both campaigns were used as pre-roll ads and hosted on the organization's YouTube page, which had previously only been used for things like RV tips and advice.
"We launched in July, which was a little bit later than we wanted to initially," Mahony says. "But we've never seen anything like this in terms of completion rates."
The "Be a Lover" videos have earned 3.3 million impressions and 900,000 completed views, but Mahony says that the best sign is the click-through rate of over 1% on the videos, which has driven 100,000 page views, 10% of which have been converted into contest entries. There has also been an email blast that went out to those that visited the sight, and those have seen a 65% open rate and 40% click through rate, showing that visitors have been coming back to Go RVing's properties from the content.
Mahony says the organization has maintained its TV budget with other spots and will continue to going forward, but is seeing the benefits of having a more well-rounded spending strategy as its customer base becomes more diverse.