Why Rogers told CRTC to keep the kid gloves on for US channels
"...I don't want to lose these folks from the ecosystem," Rogers' SVP David Purdy told regulators during Thursday's Let's Talk TV hearing.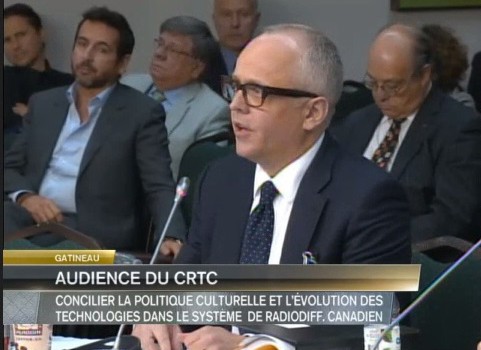 Negotiations between Canadian cable and satellite TV providers and US-based channels are often fractious.
Recall The Walking Dead broadcaster AMC last year threatening to kill the signal for its service in contract renewal talks with Rogers Communications ahead of an approaching deadline.
So you'd think the Rogers execs would have welcomed the offer Thursday by Tom Pentefountas, vice-chairman of broadcasting at the CRTC, to step forward with regulation to help carriers avoid being bullied by US channels during contract renewal talks.
"One may have thought that regulatory intervention could offer a tool to BDUs in their negotiations with the American services. I gather there's no interest for that regulatory support," Pentefountas told the Rogers execs during their appearance before the Let's Talk TV hearings.
In reply, Ken Engelhart, SVP of regulatory at Rogers Communications, told Pentefountas it was nice to know the CRTC had the carriers' back and would intervene when needed. But not just now, in case the US-based channels pull out of the regulated Canadian broadcast system altogether.
"I think that's putting it too strongly," Engelhart said of Pentefountas' proposal. "There is a problem and it would help, unless they (US channels) triggered the nuclear option and left."
Pentefountas said he understood the reluctance by the carriers for regulatory support, but added "I just get the sense you're sort of getting beaten like a drum come negotiation time because there's such fear that they will get up and leave. It obviously puts you in a difficult position."
The CRTC commissioner added he understood why the carriers felt the need to maintain the popular US channels, and their hit shows, to ensure continuing market penetration. But Pentefountas insisted Canadian carriers should not feel compelled to remain beholden to the US channels.
"Mr. Lind, your arguments are rather nostalgic. [The US channels] may have done a lot for us, but we paid them for what they did for us. I don't know that we have anymore obligations going forward," he told Phil Lind, vice chairman and EVP of regulatory at Rogers.
Lind replied that audience research indicated subscribers would be "very destabilized" if US channels like A&E, Turner and AMC were threatened during negotiations and decided to retreat back across the border. "It's a very important part of our undertaking that we sell to our customers," he added.
David Purdy, SVP of production management, video and content at Rogers, told the CRTC panel that the American channel executives could "get their heads around" pick-packs when it came to likely cable unbundling in Canada.
But the Americans were not likely to go for full a la carte packaging for Canadian TV viewers.
"It's so problematic that the likelihood of them leaving becomes greater," Purdy said.
He argued AMC has talked about creating an SVOD service for its library content.
"This may just be a stalking horse in their negotiations with Netflix, or it may be a real threat. But they have talked about creating an online service for their original series content. That type of service could come into the Canadian marketplace," Purdy warned.
"We just want to make sure in these negotiations that programming services don't leave. We see A&E, TLC, these are the types of services that could come over the top, or do a deal with Netflix," he added.
Pentefountas then asked whether the options open to US channels in the Canadian market, including programming blackouts, explained Rogers asking for preferential treatment for US channels to be maintained.
"It is. I guess that's what we're asking for, and I can always use help in my negotiations, but I don't want to lose these folks from the ecosystem. That's what I'm trying to tell you," Purdy replied.
To in part keep the American channels in Canada, Rogers has also asked the CRTC to require BDUs to offer a minimum of 50% of discretionary services on a standalone basis, beyond any basic cable package, and not to offer all discretionary channels a la carte.
From Playback Daily