Pressboard emphasizes readers with new metric
The Vancouver-based branded content marketplace has moved all of its business to a cost-per-read model as it moves out of beta.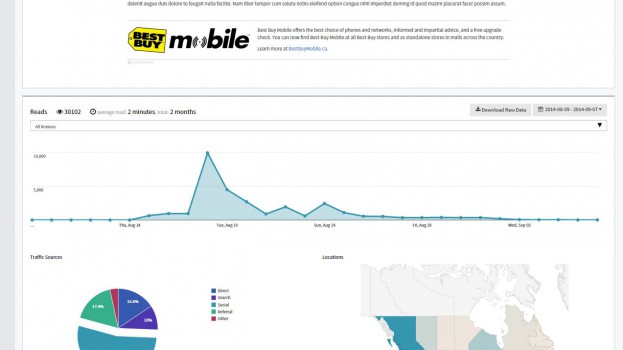 Pressboard, a Vancouver-based marketplace seller of branded content that launched in April, has released its cost-per-read model of budgeting campaigns for all of its clients.
Pressboard currently has 10 clients – ranging from regional companies like Tourism Whistler to national ones like Best Buy and Telus – and works with 30 publishers.
The system measures how many times a piece of sponsored content is actually read, not just clicked on, using metrics such as time spent on a page and tracking scrolling behaviour to determine if the entire page was seen. These metrics are available to advertisers, but it's also the currency used to determine the cost of the campaign, ranging from $0.25 to $1 per read.
"Sponsored content should be measured by the same benchmarks as editorial stories, rather than display ads," Jerrid Grimm, co-founder of Pressboard, tells MiC. "Cost-per-click is based on someone clicking through, that's not necessarily whether they land on the page or interact once they get there. Our code is on the article page and we can measure what is happening there."
Pressboard also tracks standard visitor data, including unique readers and what actions were taken after the story was read, such as clicking through a link to the brand's website.
The company launched an invite-only beta phase in April as a mix between a cost-per-read model and more common metrics, but Grimm says it is now out of the beta phase and all of its business has been moved to cost-per-read.
While the beta period didn't change the course of Pressboard's model, Grimm says it did provide lessons on what leads sponsored content to be successful. He adds the company saw that visitors who came to a brand's website from sponsored content spent about three times as much time there as one sent there from a display ad, and social media drove more than half of a story's traffic. But the key finding was that the style of the content drove how high that social engagement was.
"This might be fairly common sense, but we noticed from a data perspective that the closer the story is to an editorial style, versus advertorial, the higher the engagement," Grimm says.
Seeing that, Pressboard has encouraged its clients to create content that is of higher editorial quality with a longer shelf life by giving any reads beyond the initial buy as a bonus at no extra cost. Grimm says the company guarantees the number of reads during the campaign dates, but will only charge brands for reads it hits if that goal is not met.
The company will also launch a beta phase for business in the US next month.