Industry must prepare for multi-screen future: study
New numbers from Nielsen and IAB Canada say 50% of all media spend will come from multi-screen campaigns over the next three years, but better measurement is necessary.
Nearly 50% of all media spend will come from multi-screen campaigns in the next three years, according to new numbers from a joint study between Nielsen and IAB Canada.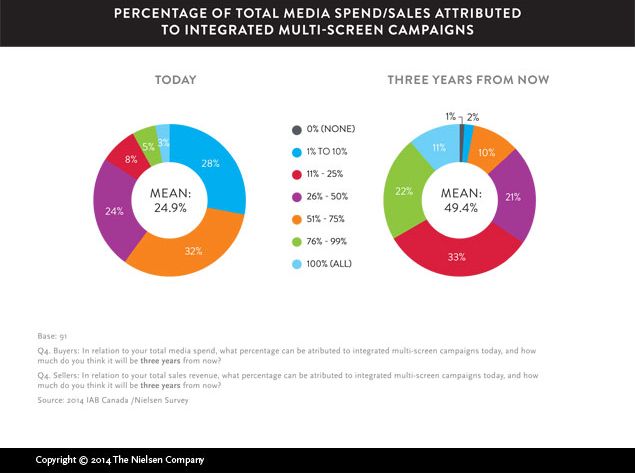 The Optimizing Integrated Multi-Screen Campaigns survey was conducted in July and August of this year, and questioned 187 Canadian industry members, primarily media buyers and sellers. It states that it is "incumbent on media buyers and sellers" to educate and equip themselves to move where the industry is going.
Measurement was singled out as the most important factor in moving towards an eco-system that includes more multi-screen advertising, with 58% replying that verification of results will lead to increased spend on campaigns.
Those numbers were reported as even more important for real-time campaigns, with 36% saying measurement is critical for success.
IAB Canada and Nielsen say the pace of change around multi-screen campaigns will continue to accelerate over the next three years.
Connected TVs will play a larger role in the next three years, with 85% of survey respondents saying the platform will be important in 36 months compared with 61% who say it is today.
There is also a strong desire to see video as the preferred ad format across screens for multi-screen campaigns, with 83% of respondents believing it is best suited to mobile and 92% believing it works best for tablets.
The study stresses that a concerted effort must be made within agencies to integrate the management of multi-screen campaigns so barriers to the current structure are eliminated. That includes moving away from silo and hybrid structures, which survey respondents say currently account for 64% of campaigns and toward an integrated approach that represents 34% of all activity today.