Postmedia to acquire Sun Media's English titles
Paul Godfrey, president and CEO at Postmedia, on how the deal with Quebecor Media to purchase its 175 titles will give it scale to compete against larger digital companies.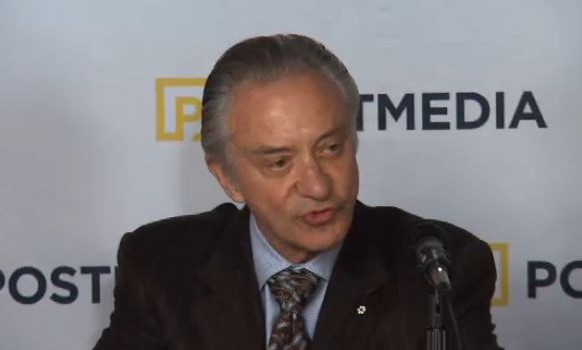 Postmedia has announced it has entered into a partnership with Quebecor Media to acquire the company's 175 Sun Media English titles.
The involved titles include the Toronto Sun, Ottawa Sun, Winnipeg Sun, Calgary Sun and Edmonton Sun as well as the London Free Press and free 24 Hours dailies in Toronto and Vancouver. The deal also includes digital properties such as the Canoe portal outside of Quebec, as well as QMI's Islington printing plant in Ontario and 35 real estate properties in Ontario, Alberta and Manitoba.
According to a release on the deal, Postmedia will pay $316 million in cash, less a $10 million adjustment for real estate properties to be disposed of by Sun Media prior to the deal closing.
Sun Media's papers reach four million readers per week, with its digital network bringing in four million unique visitors per month, according to numbers from Postmedia. It posts its flagship digital website, Canoe, just behind the CBC's websites in terms of total reach in Canada, citing numbers from comScore for March to May of this year.
In a press conference announcing the deal, Paul Godfrey, president and CEO at Postmedia, said the deal gives the company the scale necessary to compete against larger foreign-owned digital companies like Google and Yahoo. He adds that scale is necessary to grow digital share and offset losses in print advertising.
The acquisition will diversify Postmedia's revenue profile, with just under 60% of revenues coming from Postmedia properties. The remaining revenue will be split 50/50 between community and urban daily newspapers, according to numbers from Postmedia.
Quebecor's Sun Media English properties currently employ 2,400 active full-time staff.
Postmedia and Sun Media are waiting for approval from the Competition Bureau on the deal, with all publications continuing to run during the review period. The intention going forward is to continue operating the Postmedia and Sun Media brands where it has two papers; in Calgary, Edmonton and Ottawa.
Godfrey says it is "too early to answer" whether there will be job losses as a result of the deal. He says jobs will be added back into the company, with Sun Media currently looking "a little thin." He concluded comments saying "our intent is to keep everything open." A release on the planned acquisition does indicate that identified cost saving synergies of $6-10 million per year will be made at the companies within the first 24 months of the deal going through.
He said the Sun News Network was not included in the deal because "it wasn't for sale," noting that Postmedia is in the print and digital news business. Godfrey says Quebecor will have one year to change the branding on the TV channel to differentiate it from the paper and digital Sun Media products.
Godfrey, who was formerly president and CEO at Sun Media, working for 16 years at the company, including during the 1998 takeover of Quebecor's English titles, said the deal "feels like a homecoming" for himself and many others at the company.
Wayne Parrish, COO at Postmedia, formerly held senior roles at Sun Media, including GM and executive editor at the Toronto Sun and chairman, president and CEO of the Canoe online network.
The deal first started a year ago, said Godfrey, with talks involving Postmedia's major investor GoldenTree Asset Management.
Postmedia will finance the deal through a combination of debt and equity.