TSN gets in the merch game
The network is hoping sports fans will want to build their man cave with products from its online shop.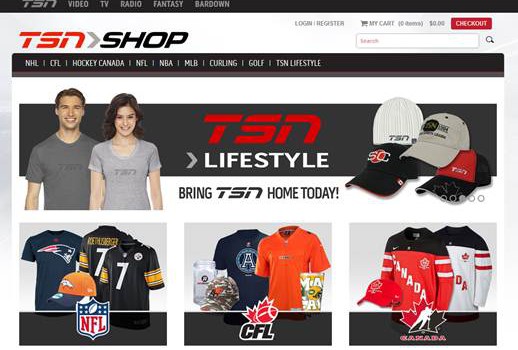 Picture being able to "shop the look" of TSN personalities like hockey insider Bob McKenzie or Sportscentre host Kate Beirness.
TSN hasn't gone that route (yet) but it has has turned TSN.ca into an etailer, launching an online shop on Tuesday where visitors to its recently redesigned site can purchase licensed team merchandise. In addition to sports apparel from brands like Nike and Reebok, there is also a Lifestyles section featuring TSN-branded products, as well as a "Man Cave" section with couches and tables for sale. TSN has partnered with London, Ont.-based Mustang Drinkware, which operates the shop. 

Though the marketing plan for the site has not been finalized, Ian Charlton, managing director of TSN events, says ads will run on both the broadcaster's TV and online platforms. 

Charlton says the brand needs to ensure it has the right mix of merchandise before looking at the possibility of integrating its talent from TSN programming into promoting its offering, but says the "possibilities are fun to think about."
He adds that the launch of the store is part of a broader plan to create an engaging TSN website, and not as much about competing with other sports retailers.
"This was always within the framework of what we wanted within a network," Charlton says. "To have this merchandise component that allows for full user engagement in terms of everything our site has to offer."
TSN launched a merchandise store for a short time in 2009 that Charlton says "gave us an idea about the things we wanted to do and didn't want to do."
This iteration of the shop had been in the works for the past 12 months. No staff were hired to manage the new platform.
The site comes out just ahead of the holiday period, with the company promising holiday shopping deals.