YouTube creator to star in W Net digital series
Production is underway on an exclusive web series featuring Canadian Rachel Cooper (pictured), the creator and star of the RachhLoves YouTube channel.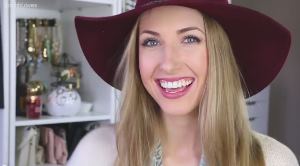 Production is underway on Get Ready with Rachel, a new digital series produced by Toronto's RTR Media for Corus Entertainment's W Network.
The series will include eight episodes and is currently set to launch on WNetwork.com in January 2015.
It will be hosted by Canadian Rachel Cooper, who is the creator and star of YouTube channel RachhLoves. The channel, which she launched in 2009, currently has more than 400,000 subscribers and 35 million views, placing it in the top 100 Canadian YouTube channels.
On RachhLoves, Cooper shares with viewers milestones in her life, such as her engagement, her wedding and the birth of her first child. On Get Ready with Rachel, Cooper will help a fan of her YouTube channel prepare for a big event in their lives, such as a wedding or going away to school for the first time.
The content from the first eight episodes of Get Ready with Rachel will be exclusive to WNetwork.com and its YouTube channel. However, Cooper will be cross-promoting the series on her existing RachhLoves YouTube channel, said Sarah Bolen, community manager at RTR Media.
"We are trying to leverage her audience and use her existing fan base to assist in helping to form the project," Bolen told Playback Daily.
Get Ready with Rachel is the first series following a deal between digital lifestyle network KIN and Corus Entertainment that made Corus the exclusive Canadian representative for the programming and advertising opportunities on KIN's women-focused multi-channel network called KIN Community. RTR Media, which is producing Get Ready with Rachel, owns several lifestyle channels that are part of the KIN Community multi-channel network.
Get Ready with Rachel is executive produced by Kit Redmond, the CEO of RTR Media. The series is produced in association with W Network, and with the participation of the Bell Fund's TV Development Online Program. The TV Development Online program is designed to help develop potential new television programming by supporting the production of digital pilots that can be tested with audiences online.
- with files from Melita Kuburas, Stream