Checking in on Globe Native
Cynthia Young, the Globe's director of advertising products and innovation, on what's been working and what's not in the program's first six months.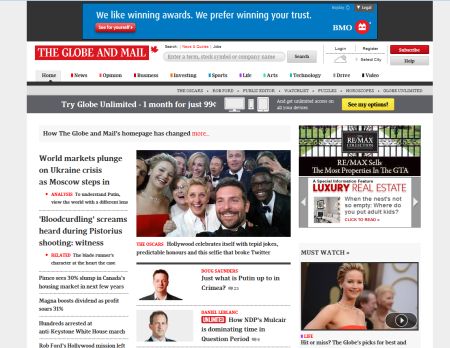 It's been six months since the Globe and Mail launched its Globe Native program and numbers released by its software partner show the sponsored content seems to be grabbing readers' attention.
Toronto-based Polar, which provides the Globe's native ad platform, says average time spent with sponsored content on the Globe in the third quarter was 69% higher than the industry average globally. Polar's platform, MediaVoice, served more than three billion native ads in 2014 on 600 publishing sites.
Native advertising on the Globe mirrors the look of editorial content, but is marked with a "Sponsor Content" label.
In Canada, where the average audience viewing time for the platform's native ads is 2 minutes 52 seconds, average time spent with the content on the Globe's site is 14% higher.
Further, The Globe is getting a click-through-rate four times higher than industry benchmarks for global news publishers.
Polar's data also says that sponsored content in categories such as News, National News and Technology have a click-through-rate above 1% on average.
Cynthia Young, director of advertising products and innovation at the Globe and Mail, says the Globe has learned that it's all about context and placement.
"We're learning the placement of where you put these things is important and I think the fundamental reason we're seeing such great results is we've kept the line of content very close to the way we approach content in general," Young says. We find it's better if content is contextually aligned."
So far the publisher has worked with General Electric. Young says there are a few other brands on board for the program but could not name them.
We aren't doing this on a massive scale because the investment is in the content," Young says. "It's keeping it to a selective group of advertisers.