When it comes to flyers, print still has pull
A survey shows that the printed flyer is still valuable to shoppers...more so than their online counterparts.
Despite the wealth of information available online and the increased availability of devices with which to access it, the old-fashioned printed flyer remains a highly important tool for consumers in Ontario, according to a new survey by BrandSpark and MetroLand Media.
BrandSpark surveyed 1,814 retail shoppers in Ontario from June 17 to 27 and found that 97% of shoppers read a flyer at least once a month. Of those, 66% of said that was roughly the same amount of flyers as they were reading a year ago, with 27% saying they were reading them more often and only 7% saying less often.
While the survey covered all formats, print is still king: 84% of those surveyed said they read a print flyer in the previous month, with 56% saying they read flyers online. If you notice that those numbers add up to more than 100%, it's because 57% of shoppers used both printed and online flyers, with 36% saying they only read print and 7% saying they only read online.
So why is print so heavily preferred? Of those surveyed, 78% said they read the print flyers out of habit (compared to 62% who said the same thing for online flyers), 72% said they read them for enjoyment (versus 62% for online) and 37% said they liked to share what they found with others (versus 26% for online).
The prevalence of the print flyer holds true regardless of demographic or devices used: 79% of moms, 73% of males and 67% of millennials with a connected mobile device still said a print flyer was their preferred format. For those sought-after millennials, 90% said they read flyers for groceries (compared to 95% of those in other age groups), with 84% saying they read a flyer for a mass merchant (compared to 92% of 35- to 49-year-olds and 86% of those older than 50). And it's not just a passing glance, as 53% of the time a millennial spends reading flyers is spent on the printed versions.
The main driver of flyer consumption is value: 92% of people said they looked for sales in flyers, with 88% looking for different price options. General product information is important, too, as 84% said they were looking to see the full range of products available, 82% were looking for which retailers carried a particular product and 76% looked for information about which brands exist.
In nearly each one of those categories, printed flyers were a more important source of information for shoppers than a store's website. More than three times as many people said it was important for looking for sales, twices as many said it was important for price comparison and getting ideas, and roughly one and a half times more people said it was important for finding out about the range of products available, which brands exist and and which stores they were stocked in.
Check out the key findings from the research in BrandSpark's infographic below: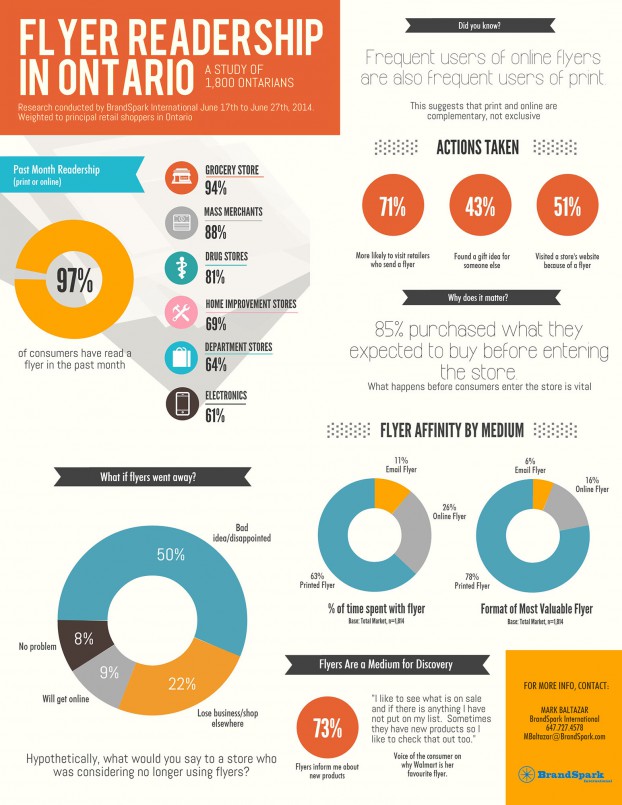 Featured image courtesy Shutterstock