Ford Lincoln buys the top: Media Monitors
The car co bought the most advertising time in Toronto for the week of Dec. 29, 2014 to Jan. 4, 2015.
Ford Lincoln is starting the new year buying the most advertising airtime in Toronto, according to the Media Monitors report for the period between Dec. 29, 2014 and Jan. 4, 2015.
Following the car co in the city is new entry Direct Energy at #2. Rogers and Shaw's streamer Shomi moved up from #6 to #3 for the week, followed by Cadillac, which jumped from #26 to #4. Bell Media's CraveTV rounds out the top five, moving up from #26 to #4.
Bell Media's Streamer CraveTV moved up one to take the top spot for the week in Montreal. It was followed by Bell Media's Shopico, which moved from #7 to #2.
The Brick jumped from #43 to #3, Brault & Martimeau jumped two from #6 to #4 and NewLook Eyewear moved from #83 to #5, rounding out the top of the list in the city.
Toronto:
By brand
By category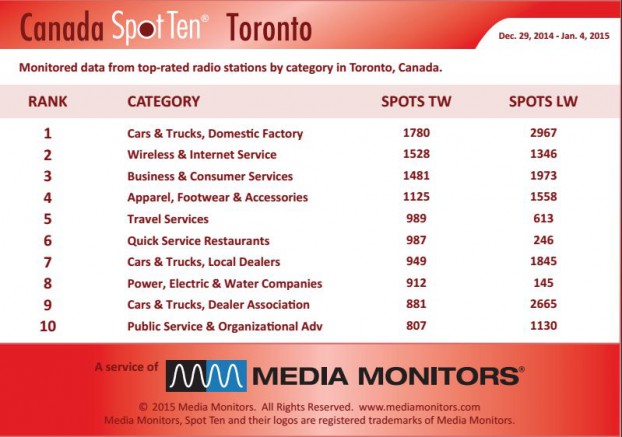 Montreal:
By brand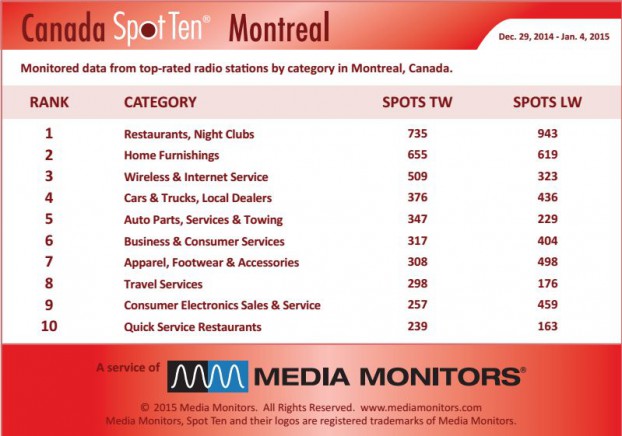 Radio image courtesy of Shutterstock
Looking for last week's report? Find out who bought the most ad time for Dec. 22 to 28.