TC Media cooks up a webseries for Dairy Farmers
Seeking a new revenue stream, the mediaco has developed a new format for advertisers.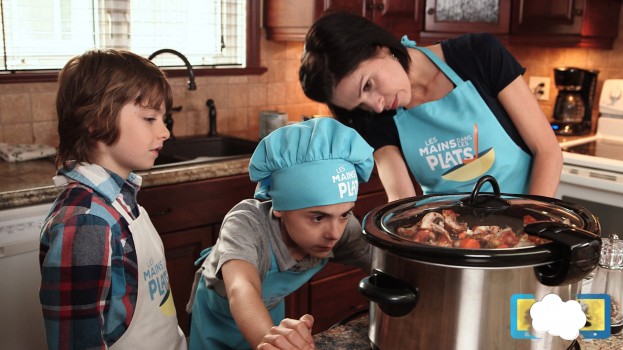 TC Media hopes its new web series about kids and parents working together in the kitchen is just the first course on a menu of new custom content executions.
In fact, its counting on the program with Dairy Farmers of Canada (and others like it) being a success. It is the first time TC Media has guaranteed views of video content for advertisers, based on agreed-upon KPIs.
Working with creative agency KBS Montreal, the Quebec-based media co's consumer solutions division developed 12 short-form web episodes, Les Mains Dans Les Plats (Hands in Dishes), aimed at encouraging parents to include their kids in meal preparation. In each of the episodes – hosted by young actor Elliot Miville-Deschênes and ranging from three to four minutes in length – a parent and their child prepare a meal.
The content lives on TC Media-owned receipe sites Coup de Pouce (which had 620,000 unique visitors in December, according to comScore data provided by TC Media) and Recettes.qc.ca (826,000 unique visitors in December) and is being promoted with banner ads on both sites.
The episodes are also being supported by recipes and articles on the sites around the theme of each episode, including tie-in recipes from Dairy Farmers of Canada, and Coup de Pouce magazine will include a "kid-friendly" icon next to certain steps of one recipe in each of its monthly issues. The publisher is also using its social media feeds to promote the content.
Jocelyne Morissette, general manager multiplatform media development, TC Media, says TC Media was confident guaranteeing views after analyzing the most-searched content on its sites.
"We know our audience wants to be entertained as well as learn something from us," Morissette says. "Based on this, we are developing web series formats we can offer to our clients.
"We call it co-branded content," she adds. "Because when we are doing this, we are discussing with our clients to make sure their values and their objectives are met."
Having content that is authentic was important, Morissette adds, which is why real parents and their children were filmed in their actual kitchens. Three new episodes will be added per season throughout 2015.
TC Media has worked with content creators to make similar series for its other key verticals - fashion, beauty, food and decoration – and is looking for the right opportunity to partner with another brand, she adds.
TC Media's publications include ELLE Canada, Canadian Living and Style at Home.