TheScore's next play: competitive video gaming
The company is breaking ground on a new market with the eSports app, which launches this week with Subway as its first Canadian sponsor.
Toronto-based theScore's newest app will feel familiar to sports junkies used to checking their mobile phone for the latest scores and news from leagues like the NHL and NBA. Except that instead of the playing field, the news for theScore eSports will come from the online battle field.
The mobile-first sports company is setting its sights on the growing competitive video gaming space, dedicating coverage to online multiplayer domains like League of Legends and Dota 2 to rival that of those more traditional sports leagues.
The new app launched on Wednesday in the Google Play store, making theScore the first large media company to make an app dedicated to e-sports. Top stories on Wednesday morning included a roundup from the North American championship for League of Legends and news that multiple players of the game Counter-Strike had been banned from competition following match-fixing allegations. Further platform rollouts for the app are planned, including an iOS version.

According to a May report by U.S.-based research company IHS, people watched 2.4 billion hours of e-sports video in 2013, tuning in online to see skilled players competing. That was nearly double the amount watched in 2012 and the company predicts that hours of viewing will rise to 6.6 billion by 2018. Tournaments can pull in viewers to rival major sporting events – more than 32 million people watched League of Legends Season 3 World Championships online.
Yet there isn't a strong mobile-first site offering coverage of the space, says Chris Chae, product manager, theScore eSports.
"On mobile it's a barren wasteland that we're entering," Chae says. "Right now people have to fumble around on websites that aren't mobile-optimized even to find out simple things like when their favourite team is playing or how their team did last night. These are questions we wanted to answer in a very simple way on mobile. "
A newsroom based in theScore's Toronto offices will leverage the CMS technology built for its sports app. An editorial team of roughly 30 based in Toronto staff, split between full-time and freelance writers and editors, will provide original content, including live updates, stats and news.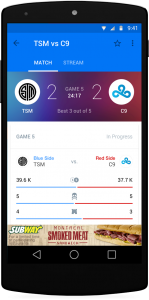 Subway Restaurants has signed on as the Canadian launch sponsor for the new app, with ads running within the app on mobile and tablet, as well on desktop and mobile web until the end of April. Taylor Coulis, account executive at theScore, says the app is launching with the full suite of IAB ad units with plans to integrate native ad units into its news stream. It is available globally but the company expects the initial market to be North American-focused.
Coulis expects advertisers in verticals like banking and financial services, QSRs and mobile produts –  similar brands that advertise on its theScore mobile app – will also want to reach the users of the e-sports app.
"The target demo for both products may seem different in terms of video games versus sports, [but] they are both highly engaged, affluent, 18- to 34-year-old males," he says. "Once it starts to grow and develop, it offers a low-hanging fruit opportunity for brands to do some nice cross-channel advertising."
TheScore is also marketing its new app by sponsoring a number of e-sports personalities, including Purge, a Dota gamer. It is also the lead sponsor of the English-language broadcast of the Dota Asian Championship, which is being broadcast on Twitch.
Image courtesy of Shutterstock