Hubub announces monetization model
Details on the sponsorship opportunities that will be available on the site, and sold by Bell Media in Canada.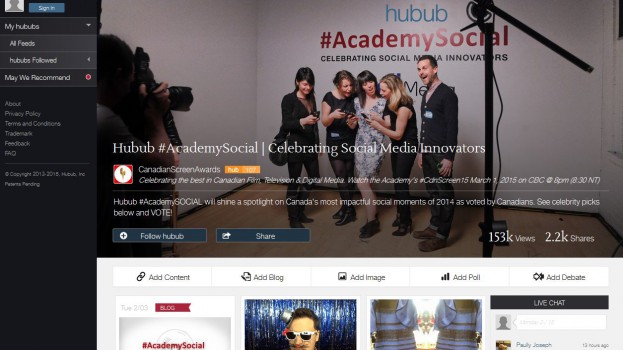 Hubub, the social media site that is formed around individual pages that are filled with the personal interests of users and ladder up to larger communities, has announced a monetization model.
The site, which Bell Media has exclusive monetization rights to in Canada, will be rolling out sponsorship opportunities, with the first posts going live in the next four to eight weeks.
Brands will be able to either sponsor individual pages, such as more popular celebrity offerings like Ben Mulroney's or Marilyn Dennis', or request pay-by-performance placement of sponsored posts on the accounts of certified users.
Details on how users become certified are being worked out, but will there will be a threshold of users and interaction on the page before people are given the label.
Should certified users choose to accept paid posts from brands, they will be paid based on how the spots perform, with the exact dollar values for the placements still being worked out, says Peter Corsell, founder and CEO, Hubub.
In beta, Hubub users spent an average of 28 minutes on the site per session. Additional metrics have not been released since the Dec. 17 launch.
Bell Media invested $5 million into the social media company last fall, and since then has promoted the site through a media buy that included ads during CTV`s broadcast of the Super Bowl.