AOL brings Makers to Canada
Former Dragon Arlene Dickinson, Dr. Lalita Malhotra and charity co-founder Yael Cohen Braun (pictured) are the first Canadians in the Mazda-sponsored series.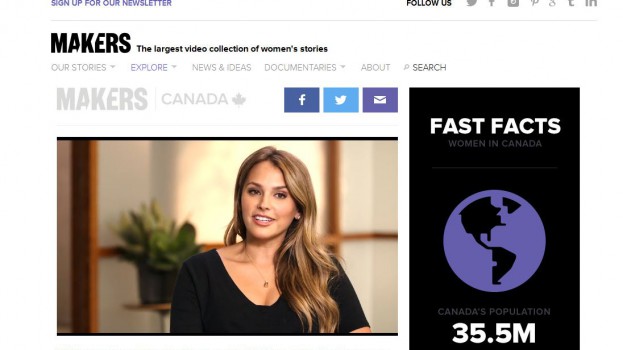 AOL Canada has launched a Canadian version of Makers, bringing the series of women-focused video stories  into the country. The March launch timing aligns with Women's History Month in the U.S., and International Women's Day from the UN on March 8.
Mazda is the series exclusive launch partner, represented by GroupM, with the car company having pre-roll ads across all Makers Canada stories and digital companion ads on Maker.com and Makers.com/Canada. It will also have a video campaign on AOL's branded entertainment platform Be On and video platform Adap.tv as part of the deal.
Makers Canada is launching with stories from former Dragons' Den star and CEO of Venture Communications Arlene Dickinson; women's health advocate, obstetrician, gynecologist and family doctor Dr. Lalita Malhotra; and co-founder of Fuck Cancer, a health organization working for early detection and prevention of cancer, Yael Cohen Braun. Additional videos will be posted to the site in about a month, according to AOL Canada representatives.
Originally launched in 2012, Makers is a set of female-focused online stories that features over 3,000 videos from more than 270 women, including Hillary Clinton, Ruth Bader Ginsburg and Oprah Winfrey.
Joe Strolz, general manager, AOL Canada, says the launch of Makers Canada is in line with the company's focus on video, programmatic and content for Huffington Post Canada. The company will be digging deeper into locally-produced video later this year, with plans for its Toronto in-house production hub to go live around the end of the second quarter.