Shaftesbury, Banff launch branded entertainment contest
The pitch competition will focus on female-targeted scripted digital series (MsLabelled pictured).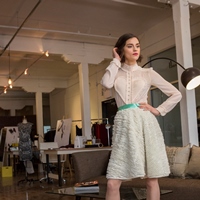 Shaftesbury, its digital studio Smokebomb Entertainment and the Banff World Media Festival have teamed up to launch a branded entertainment pitch contest focused on content targeted at female millennial audiences.
The AMP (Audience Metrics Partnership) Accelerator will accept submissions from Canadian residents for an original scripted digital series targeted to the 16- to 24-year-old women and features a female-lead narrative. Each applicant must include information and social media research for the pitch's target demo, including information about where the target audience can be found, and why it would be interested.
Brands and products, however, should not be incorporated into the story of the series or in the pitch.
A jury made up of Shaftesbury and Smokebomb representatives will review the first set of pitches to create a shortlist. Then, three finalists will be chosen and invited to the Banff festival to pitch their projects in front of a live audience. The finalists will receive a full-access pass, travel and accommodation to the Banff World Media Festival, and Shaftesbury/Smokebomb will work with the finalists to fine-tune their pitches before the event.
The winner of the competition, announced at the pitch session, will then work with Shaftesbury/Smokebomb to develop the content and audience engagement strategies for the project. Shift2, Shaftesbury/Smokebomb's co-venture brand agency, will also look into potential brand partnerships for the pilot episode of the winning series.
The launch of the AMP Accelerator follows two recent moves by Shaftesbury/Smokebomb into the branded content space with a focus on female, millennial audiences. A second season of Carmilla, a vampire-themed web series financed by U by Kotex, is set to bow this spring. The series has generated 14 million views on YouTube to date since its premiere this past summer. The fashion-centric comedy MsLabelled (pictured above), produced by Smokebomb in partnership with Shaw and Schick Quattro for Women, launched late last month on Shaw's slice.ca website and the VervegirlTV YouTube channel.
Applicants can submit pitches until April 20 at the Banff World Media website, with the three finalists to be unveiled on May 20.
From Playback Daily