Spotted! T.O. gets a peek under Halifax's kilt
The city's tourism marketing organization has used new ad-tech to roll out a playful digital ad aimed at reaching LGBT travelers.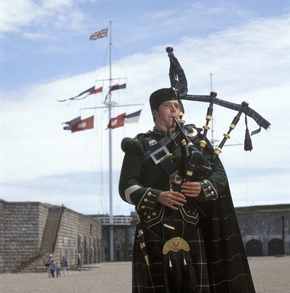 Destination Halifax is reaching out to the LGBT community, inviting travelers to come and explore its many tantalizing offerings – chief among them men in kilts.
The tourism marking organization has launched an OOH execution in Toronto that is sure to not only attract its target demo, but wistful Outlander fans as well.
The digital ad face in a Toronto subway station features a man in a kilt, which first flutters, then lifts up with the breeze every time a train rolls into the station.
The ad, which uses advanced OOH technology to enable the kilt's movement in sync with train arrivals, has been strategically placed in the Wellesley subway station – Toronto's gay village – to portray Halifax as a laid-back and welcoming destination.
Halfiax-based creative agency, Chester + Company, which has been Destination Halifax's agency of record for six years now, developed the ad.
"The strategy is to position Halifax as a fun, welcoming destination for LGBT travelers," said Tyler MacLeod, director, client service at Chester + Company. "The campaign is aimed broadly at the LGBT community. Online executions more narrowly target members of the community who are avid travellers and have above average education and income levels."
The company invested more heavily in OOH ads in Wellesley Station because of its concentrated LGBT community but posters are up on subway walls in several other stations.
For the tech to work in sync with train arrivals, two versions of the video had to be produced. In the first, the kilt flutters lightly, and in the second the breeze pushes the kilt up. "Whenever our ad is about to be served in the loop, the program checks whether there is a train arriving. If there is a train arriving at that moment or within a few seconds, the gusting version plays."
The company has been targeting niche audiences through advertising for some time now. It began reaching out to the LGBT community in 2006 when the chairman of the city's pride committee suggested that Halifax could be promoted as a city that welcomes gay travelers, according to Lynn Ledwidge, the company's director of marketing. After extensive research and building ties with the local gay community, Destination Halifax realized that the LGBT community was a perfect audience for its campaigns. Research revealed "high levels of education, a propensity for travel. [People] were interested in rich culture, good nightlife, great food and nature…all of those things we could deliver on."
Apart from the LGBT community, Destination Halifax has also developed campaigns aimed at reaching foodies and outdoor enthusiasts.
The campaign, which also debuted in Boston, runs through June 26.