You just missed the year of mobile: IAB Canada
Mobile ad revenue grew by 111% in 2014, jumping to nearly one billion dollars in Canada, according to the latest figures from the organization.
Publishers and brands that have had the best of intentions, but a lack of action around building better mobile sites should take notice of the 111% growth the vertical saw in 2014, says Sonia Carreno, president, IAB Canada.
According to the organization's 2014/15 Internet Advertising Revenue Report, mobile revenue grew by triple digits (111%) for the second straight year, moving from $427 million in 2013 to $903 in 2014. Mobile now brings in 24% of Canadian ad revenue, doubling last year's figure. Nearly one in four digital ad revenue dollars in 2014 came from mobile. In contrast, desktop revenue dropped 3% for the year, bringing in $2.8 billion in 2014 versus 2013′s $2.9 billion.
"Through 2014 there were all kinds of alerts that mobile was overtaking desktop in terms of traffic," says Carreno. "However, many Canadian marketers were so slow to translate this into their user experiences. That is a big takeaway from the report, that it's now or never in terms of taking a leap to the mobile environment."
Carreno believes that the industry's general lethargy in responding to fast-changing shifts in consumer digital usage is the problem. "It's still found the way to the back burner in many cases. Some of Canada's largest retailers are falling behind in terms of mobile experience."

Overall, Canadian internet advertising revenue grew 11% year-over-year, reaching $3.7 billion in 2014. An additional 11% jump is forecasted for 2015. Internet revenue pulled further away from TV in 2014, coming in 13% higher for a 34% share of major media ad revenue in Canada, compared with TV's 30%.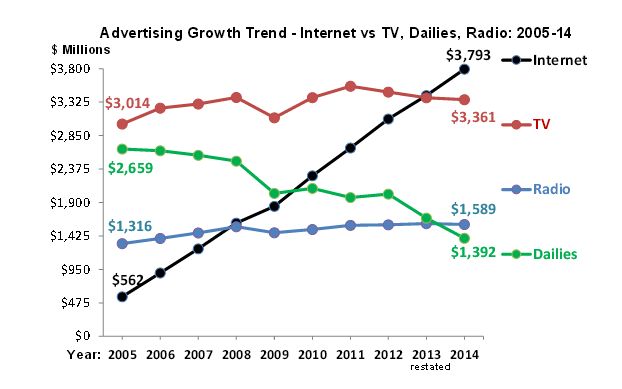 Carreno says the puzzle pieces around the rapid growth of digital are falling into place, as online video marked a big jump in 2014, moving into the top three online formats. Search and display are still the top two online ad formats, generating $3.3 billion in 2014, nearly 90% of all internet revenue for the year. Video grew by 28% last year, enough to account for 7% of total internet revenue in 2014.
The top four categories of internet advertising (CPG, automotive, retail and financial) brought in a combined 47% of total ad revenue in 2014 out of a total of 15 reported categories.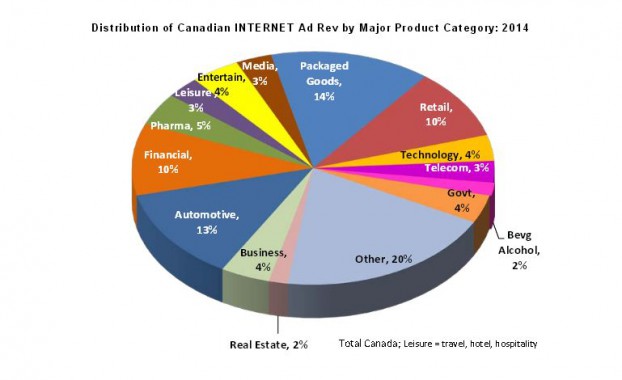 Image courtesy of Shutterstock