Eyereturn introduces new platform
The ad-tech co has developed a new hyper-granular reporting platform to give buy-side players the confidence to fully evaluate campaigns.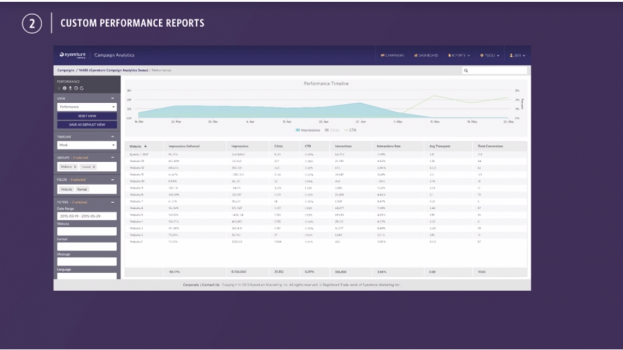 Eyereturn Marketing has released a new product to let brands dive deeper as they track the effectiveness of their campaigns.
The buy-side platform's new solution, called Campaign Analytics offers integrated real-time performance indicators, and began rolling out to clients a couple weeks ago.
The company's in-house tech team developed the platform, which was built from the ground up in an effort to move with the changing times, says Andrew Robitaille, director of sales at Eyereturn, and to offer buyers a single platform on which to buy and assess their campaigns.
The platform integrates DSP, ad serving and data analysis in one space, in real-time allowing buyers and advertisers to see the immediate impact of their campaign, and alter it as required.
"This allows client to go much deeper, be more granular by allowing them to filter more functionality, see more real-time data, advertiser spend and to check for fraud," says Robitaille.
The decision to develop a new system was in keeping with the increasing need for brands to accurately assess their ad spend using actionable data, he says.
Clients are transitioning to Eyereturn's new platform with their new campaigns. With back-t0-school and Christmas campaigns upcoming, Robiaille says that more clients will soon be using Campaign Analytics, which provides serving, monitoring and optimizing across all ad formats, including html5 and rich media.
One of the other advantages of the platform is its ability to measure and detect fraud, a major concern for brands advertising on digital. "We view ourselves as leaders in the anti-fraud space," says Robitaille, referring to the teams' involvement in anti-fraud prevention, and on writing on the subject.
Campaign Analytics isolates suspicious publishers based on dubious patterns of impressions delivered through its ad serving platform. The system notifies clients of potential click robots or botnets and allows them to quarantine fraudulent players.
Why didn't the company just add some bells and whistles to its existing Eyereturn 5? "You can build things on old platforms all the time but at some time its going to need a major face lift."