Pan Am opener draws nearly two million
New Canadians made up about 20% of the TV audience for the opening ceremony of the 2015 Pan Am Games.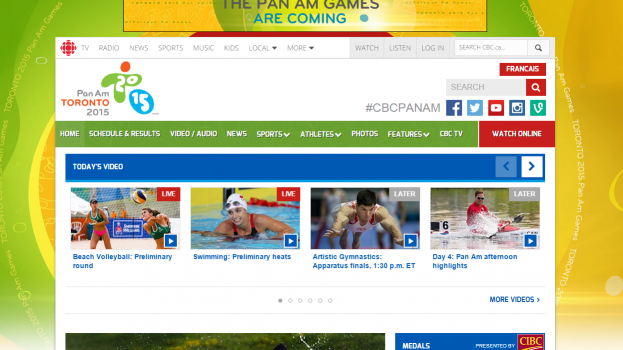 The 2015 Pan Am Games opened on Friday with a Cirque du Soleil production that drew an average audience of 1.9 million across CBC and CBC News Network.
The numbers rise when capturing more casual viewership: close to 5.5 million Canadians tuned in for at least one minute or more of the opening ceremony, with new Canadians making up 20% of the audience.
Overall, 10.6 million Canadians have tuned in to see some part of the games' coverage. The audience peaked at 9:07 p.m. at 2.3 million as Team Canada made its entrance along with other national teams during the parade.
On Saturday, an average audience of more than one million viewers watched the Scott Russell-hosted Pan Am Prime show between 7 and 10 p.m, while 630,000 viewers on average tuned in to CBC TV to watch Pan Am Afternoon with Andi Petrillo.
Online, the broadcaster's Pan Am website garnered close to four million page views on desktop, mobile and the company's sports app since July 10. Also, there were more than 465,000 video views across all three platforms with Sunday being the busiest day so far with 1.8 million page views.