CBC extends Pan Am games broadcast
The broadcaster has added to its primetime and daily coverage of the third-largest global sporting event.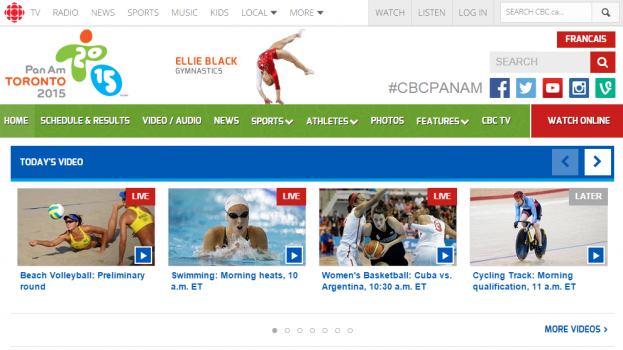 Canadians are tuning in to the Pan Am Games, and the CBC is giving them more of it to watch.
Almost two million viewers on average watched the games' opening ceremony on Friday, with over 10 million seeing some part of the Games coverage as of Tuesday this week.
The pubcaster has extended its programming of the broadcast, adding 12 hours to its original TV broadcast schedule of close to 90 hours. The new schedule pushes this up to 100 hours with over 650 hours of online and app programming. The Pan Am Afternoon show with host Andi Petrillo will now run for three hours, Monday to Friday between 2 and 5 p.m. until the end of the competition.
Additionally, CBC has added four hours to its weekend coverage with an extra hour of primetime programming this Sunday, beginning at 7 p.m., and three more hours on Saturday July 25, with coverage beginning at 1 p.m.
The pubcaster will continue to carry live telecasts of medals being awarded. Its digital coverage is also available on Cbc.ca/panam, as well as on the CBC Sports App on both iOS and Android. 
In addition to coverage of the Games, the broadcaster will also be showing the closing ceremonies on all its platforms,  where celebrities Kanye West, Pitbull and Serena Ryder will be performing.