Which part of your ad did a consumer click on?
District M, a Montreal-based ad tech co, has a new product that will enable brands to see how users engage with their ads and simultaneously check for fraud.
District M has launched a new product. The Montreal-based advertising technology company has added Click M to its suit of offerings. The new tech will give brands better campaign management capacity by allowing advertisers to see where users have clicked on their display banners. (see image below)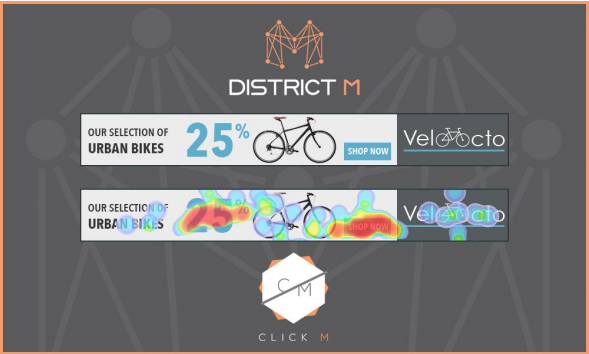 The tool furthers the company's efforts to provide clients with transparent data for campaign management, says Jean-Martin Provencher, VP ad operations and marketing at the company.
"It is insightful for our advertiser to see what works with their ad creative. Some advertisers   will include the call-to-respond action, and that is absolutely relevant within display or banner ads."
The second advantage of the heat map is its ability to detect fraud. "In that case, we will see another type of pattern. Clicks will happen at the border of a banner since a bot click as soon as it hovers over a pixel." The heat map through Click M shows fraudulent activity around the corners and borders of the creative.
The company's research shows that a heat map of clicks identifies which part of an ad's creative has drawn users in. Unsurprisingly, the CTR is much higher for ads that have a specific call-to-action, over those that don't, says Provencher.
Click M is currently live within CAMP, District M's reporting platform, and clients can access where users have clicked along with other metrics on campaign performance.
District M launched two years ago and provides programmatic solutions to both advertisers and publishers using its own DMP. 
Image courtesy of Shutterstock