The Star increases advertising ahead of tablet launch
A new media campaign from the Toronto Star aims to increase the brand's presence in-market ahead of its tablet-app debut.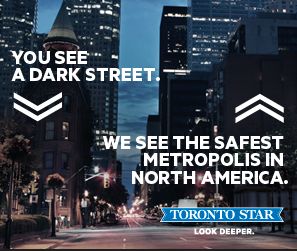 The Toronto Star is in market with a campaign this summer that aims to remind Torontonians of its role in the city.
With the tagline "Look deeper," the campaign includes OOH, radio, print and digital, with media handled by M2.
Creative, by Rethink, offers an image associated with a story, and a tagline offering the "investigative layer." For example one ad reads, "You see a basketball court. We see the GTA's eight first-round draft picks since 2011."
Brian Cordingley, senior promotions and brand manager, Toronto Star, says the campaign is the first from the daily in some time. The timing was right for this promotional push because of the proximity to this fall's tablet app launch with LaPresse+.
The current work will be in market until mid-August with a second push featuring messaging around the app launch coming out in the fall.
The Toronto Star's publisher, Torstar, saw first quarter revenue drop 22.9% for the three months ending March 31, pushed downwards by continuing pressures on the print advertising market.