Discovery's high-flying year
Ratings for the brand's suite of digital networks are up 33% for 2015 to date.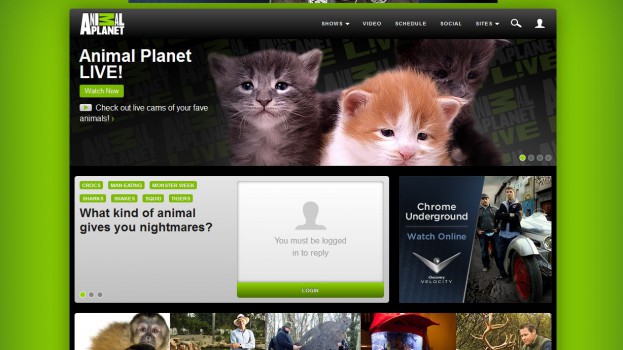 Discovery Canada's suite of digital channels is on pace to mark a record-breaking broadcast year.
Three of its four services – Investigation Discovery, Animal Planet and the recently rebranded Discovery Velocity, are on pace to complete the year with their highest audiences on record, and Discovery Science has doubled its audience over the past seven years. Overall, audiences are up 33% for the suite of four channels for the period between last September and the end of July 2015, according to Numeris data from Bell Media.
Viewing on Investigation Discovery is up 23% from Sept. 2014 and July 2015 versus the same period last year. The channel reported 1.4 million subscribers in 2014 and $2.3 million in national advertising, up 3.6% and 25% respectively, according to the CRTC.
Animal Planet viewing is up 33% for the same period and Discovery Velocity has nearly tripled its audience since launching under new branding and scheduling last February.
Paul Lewis, president and GM for Discovery at Bell Media, says his team credits this year's success to each of the brands aiming to appeal to a different interest and demographic. He specifically notes this year's rebranding of Discovery World to Discovery Velocity, noting the hole in the market his team identified for "turbo programming" for viewers and clients. The channel, which formerly played nature programming, is now focused on automotive, cultural and diverse travel.