Scotiabank hones in on home renos
The bank worked with House & Home magazine to execute an AR video strategy promoting its home-targeted financial products.
When the Ask a Designer special issue of House & Home hit the shelves in August, the magazine provided its readers with an opportunity to play treasure hunt. Inside the publication's 128-page issue are eight pages that offer readers a little bit more: access to exclusive editor-authored video tips on household design with financial advice from Scotiabank.

The issue, which focuses on kitchens and bathrooms, is subtle about the Scotiabank partnership. A full-page ad follows the editor's note and introduces the bonus video execution using the free-to-download Layar app: readers will find eight symbols that trigger a connection with a mobile phone and give access to editorial staff's personal renovation stories as well as financial advice from Scotiabank. The symbols are placed in a small box announcing a "bonus video" placed in one corner of eight pages through the magazine. 
The collaboration came out of a media plan executed by PHD as the bank was looking for new and innovative ways to bring its message to consumers, says Clinton Braganza, SVP marketing, Canadian banking at Scotiabank.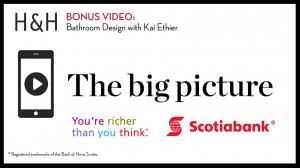 House & Home's target demo is 35-to-55-year-old homeowners and, with the special issue, the magazine was also looking to target those "in a mindset to make a change," says Mark Challen, VP communications at House & Home.
The idea for a digital extension to the magazine came after the magazine partnered with retailer The Bay for an event and noticed that the department store had a Layar app bonus content option in its season's look book. The magazine pitched it to Scotiabank, which was looking to reach consumers working on renos. 
The magazine wrapped its editorial video content around personal stories, like kitchen and bathroom reno struggles. "We wanted to centre it around the value of design, about buying smart," says Challen. "When should you splurge and when should you save? Right now people are really into the vibe of design and personal stories is the way to do it."
For Scotiabank, the execution is part of its fall consumer-lending marketing plan. The House & Home readership was the perfect audience for such an execution, says Braganza.
The bank was keen on using more tech-based ideas in its campaigns and this was the first execution of its kind for it. "We're leveraging our branch network and our digital channels but this was our big test and it's an opportunity to learn more about this new tech," says Braganza. 
In addition to the magazine, the partnership also includes a series of three- to four-minute videos on H&H TV (which houses the publication's online video content), a series that is accessible to anyone and does not require a Layar app download.
For now the bank will be measuring the impact of the campaign on its mortgage and line of credit business by seeing if there are any spikes in website traffic, and Braganza says they will be tracking the feedback they receive from consumers.
"What I really liked about the videos is they are giving you hints about how to save money and provide more value to your room, and that is what we do at ScotiaBank, we provide sound advice to our customers."