CBC refreshes its sports properties
The pubcaster has given CBC Sports a new look and rolled out a year-long program in support of the Olympics.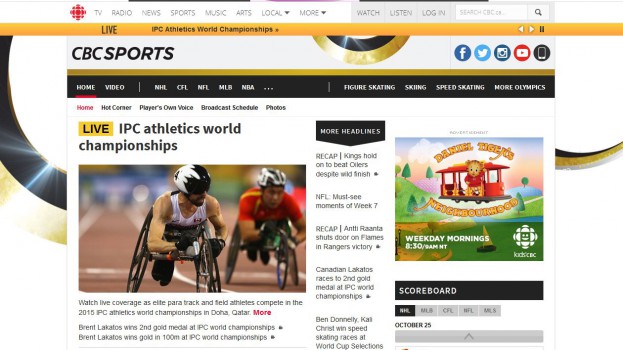 The CBC is bolstering its promotion of amateur athletes, rebranding CBC Sports and launching a new year-long program in support of Olympic competitors and the sports they play.
Changes to the pubcaster's sports properties come following last week's announcement that the CBC won the rights to carry the Olympic Games through 2024, adding the 2022 and 2024 events to its roster.
CBC Sports has been refreshed with a new logo and look for CBCSports.ca, with an additional focus on high-performance amateur athletes.
As part of the pubcaster's year-long push behind the Olympics, it has launched multi-platform program Road to the Olympic Games. The new content vertical will chronicle the journeys behind Olympic athletes on-and-off the field, so that Canadians become familiar with the competitors and don't meet them for the first time on the podium. It also provides an opportunity for brands to connect with viewers around the Olympics year-round. 
"We know from our conversations leading up to Sochi and since then that our partners are looking for a longer planned execution of their involvement around the Olympic movement," says Jean Mongeau, GM and CRO, CBC/Radio-Canada. "This is a long-term sustained brand that allows us to be present year round and not just as a blip on the radar."
Road to the Olympic Games consists of a weekly weekend sports program, formerly called CBC Sports Weekend, which airs Saturdays at 4 p.m., as well as a microsite within CBCSports.ca and on the CBC Sports app. The new weekend programming went live on Saturday with coverage of Skate America, part of the ISU Grand Prix of Figure Skating.
Focusing on high-popularity amateur sports like alpine skiing and figure skating in the winter and athletics and gymnastics in the summer, the CBC is aiming to differentiate itself from other networks by promoting sports that aren't getting a lot of play elsewhere.
The new year-round Olympic program, which will be hosted by the CBC's Scott Russell and Andi Petrillo, also gives sponsors a platform to connect around the games 365 days a year.