What Canadian women want
According to a new survey of 30- to 40-somethings, the majority are married, don't lie about their age and cook at home most nights.-
What does it mean to be a Canadian woman around the age of 40 in 2015? According to a new survey from Chatelaine conducted by Abacus Data, Canadian women between the ages of 35 and 45 are most likely married, own a home and have children.
The survey was conducted online between Sept. 2 and 7 by Abacus Data, and included 1,000 Canadian women aged 35 to 45.
Lianne George, editorial director at Chatelaine, says the survey was conducted to get a better read on how women in the magazine's core target demo are feeling heading into the new year. The January issue features Canadian Miss Universe Ashley Callingbull on the cover, the first person to front the magazine in years, says George.
Initial online reactions to the survey have been strongest around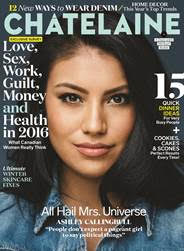 the statistic that 31% of women reported having sex less than once a month.
Chatelaine's social media followers also reacted strongly to the statistic that 68% of women don't identify as feminists, calling attention to negative connotations around the word, not the values associated with it, says George.
According to the numbers, 54% of respondents were married, with 20% in a common-law relationship. 
Nearly three-quarters (73%) of respondents have children, reporting an average age of 26.7  when they had their first child.
Half of respondents say they are currently working full-time, with the majority (29%) of women saying they make between $30,000 and $50,000 a year. In a related question, 54% of women reported feeling they make less than they deserve. Most women (44%) also reported feeling being behind where they thought they would be at this point in their careers.
Most (66%) women reported owning, not renting, the place they live.
More than half (58%) of the women reported cooking at home nearly every day, with 28% saying they cook a few times a week, 4% a few times a month, 6% once a month and 4% never making a meal at home.
The majority of respondents (39%) report not drinking at all during the week, with the next highest group saying they have between two and five drinks a week.
Not getting enough exercise was the thing the most women (29%) reported feeling guilty about, followed by not spending enough time with their kids (19%).
Most women (36%) reported wanting more money if they could get more of any one thing in their lives. More travel was the second-most requested, at 26%.
Most respondents (44%) reported being more happy now than they were 10 years ago, with 25% saying they were less happy and 31% saying they feel about the same level of happiness.