Shaw brings Comcast X1 tech to Canada with FreeRange TV
Announced at CES today, the company's new mobile viewing platform ups the stakes in the cable subscription game.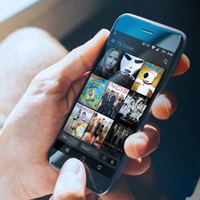 Mobile viewing of linear TV and OTT programming in Canada has until this point required consumers to put together a patchwork of apps on their phones and iPads, with unending App Store updates, passwords and scrolling as one tries to remember what show airs where.
But Shaw Communications today released a product that simplifies the subscription-TV experience for consumers using U.S. media giant Comcast's X1 platform technology.
FreeRange TV was announced at CES today by Shaw Communications CEO Brad Shaw, a high-profile launchpad that speaks to the company's ambitions for the new product. FreeRange is a cloud-based mobile product that delivers Shaw subscribers' TV and OTT products (Shomi) and programming to consumers in a single app. Subscribers can access, and control access to, programming from both their TVs and mobile devices within the app and allows them to download it for offline viewing as well.
The app will allow Shaw Communications customers to access over 80 live TV channels, 30,000 on-demand channels, 1,500 downloadable kids titles (from Corus' Treehouse, Nick and YTV channels) and sports content via Sportsnet and TSN.
Comcast has put significant R&D and marketing into the X1 platform (which is tied to an X1 set-top box) in the competitive U.S. market, and has credited it with reducing cable subscriber loss. Shaw too is clearly hoping for a boost from FreeRange, as Canadian cable cos face the dual challenges of cord-cutting/shaving and the encroachment of IPTV products into their marketshare. (In 2015, Comcast added gaming, via a licensing deal with EA, and voice control capabilities to the platform, as well as dual-language capabilities for its guide.)
"The quality of the in-app experience and the flexibility it provides users…puts it far ahead of anything else out there," Brad Shaw said in the product's launch announcement. "By enhancing functionality, expanding the quality of content offered, and by making navigation intuitive and easy, FreeRange TV addresses the challenges many TV apps have typically faced."