Facebook sees spike in mobile ad spend
Josh Bloom of Facebook Canada on his company's focus on giving advertisers' actionable insights from its reservoir of data.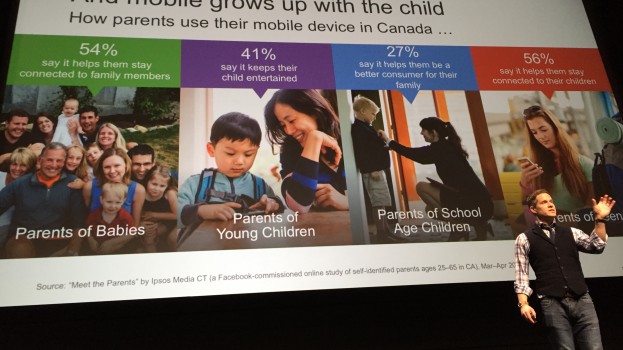 Facebook continues to grow its global presence, adding 148 million daily platform users over the same period last year.
The data comes from the platform's Q4 2015 report, which also reported overall revenue for the company increasing by 52% to $5.84 billion in a year-over-year comparison. Revenue for the full year was $17.9 billion, a 53% increase from 2014 on the basis of constant currency.
The company also witnessed a 57% increase in ad revenue last quarter, which grew to $5.63 billion globally. In 2014, ad revenue on the site for the corresponding quarter was just over $2 billion. The North American market, specifically the U.S. and Canada, saw a 64% increase in ad spend, making it the biggest growing ad market for the company after the Asia-Pacific region, which also grew by 57%.
In 2015 Facebook users also demonstrated a move to mobile, with 90% of the 1.44 billion people worldwide who accessed the site monthly and daily visiting it through their mobile devices. That shift also impacted mobile ad spend, which, at $4.5 billion, accounts for 80% of total ad revenue and represents an 81% year-over-year increase.
Advertising revenue for the year was up 49% year-over-year to $17.1 billion on account of 2.5 million regular advertisers.
The shift in ad spend and consumption has also resulted in a shift in Facebook's strategy in dealing with advertisers. At the end of last year, the company launched Facebook IQ to give advertisers better information to efficiently reach their targeted audience on Facebook. Yesterday, at FFWD AdWeek, Josh Bloom, director of sales at Facebook Canada, pulled out some of the data from that report to focus on key demos – parents, moms and millennials – by showing how those groups interact on Facebook.
Among the insights Bloom shared at the conference were pointers for marketers. In order to reach an always-connected audience, he said that marketers need to integrate mobile into their marketing strategy and deliver mobile-first campaigns. On the creative side, brands need to launch "thumb-stopping" creative to draw in users that are increasingly on mobile (78% of Canadians are smartphone-connected).
In an interview with MiC following the presentation, Bloom said that Facebook IQ is a result of advertisers wanting the company to drill down on its vast quantity of data to help them be more informed in their buying decisions on the platform. The company's growth in Canada can be charted just by looking at Bloom's journey; he launched the company's office in Canada seven years ago as the only employee. Facebook Canada now has 70 employees.
In his presentation, Bloom focused on Facebook and Instagram, showed how users interact differently on the site. New moms on Facebook, for instance, hit peak time on the network at 7 a.m., while Instagram users come to the platform for positive messaging. Bloom also said advertisers should be targeting millennials in the "language" they prefer, that of graphics, emojis, stickers and videos.
Video is a fast-growing part of Facebook's business. Globally, Facebook users watch over 100 million hours of video daily.  The company's Messenger platform has also been growing  and now has 800 million subscribers. Last year the company opened up Messenger for Business, which allows companies to connect directly with clients. Rogers and TD Bank have been using it as a customer-service tool 
The company has been unrolling new ad products over the year to expand its offerings to both small, medium and big business. It launched Instant Articles in Canada late last year after debuting the publisher-friendly model in the U.S.