Vubble's branded video playlists
CEO Tessa Sproule on the clients that have signed on to the new service, which places curated playlists on their websites.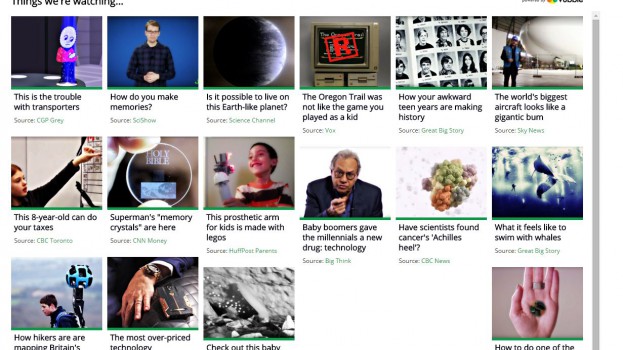 The importance of video online keeps rising, with 69% of Canadians watching YouTube content on a monthly basis, according to recent MTM numbers.
Curated video content company Vubble is hoping to tap into the insight that there are many brands that don't have the time or budget to continually create a feed of videos to keep consumers coming back to their websites.
Tessa Sproule, CEO and co-founder of Vubble, started the video site after leaving her post as director of digital at the CBC in 2014, with fellow ex-CBC employee Katie MacGuire. The goal of the startup at launch was to shakeup the way people see videos online. Vubble's team aimed to do that by adding a human touch to the typically automated mix of videos that are similar to the interest of users, paired with some that they wouldn't normally seek out.
But, with Sproule and MacGuire not wanting to follow legacy advertising models, there were issues around monetizing the new business.
"We thought who would pay for curated lists of videos? And then we realized that brands would," says Sproule.
Enter Vubble for Business, a turnkey service that acts like a music playlist that's tailored to each client's specific video needs. The service is priced based on the amount of time and effort it takes the team to curate a video list for clients, ranging from $100 to $500 a month. Clients to date include a science-based video feed on the site of Canadian YouTubers AsapSCIENCE, environmental videos for the Ministry of Environment and Climate Change and news, music and comedy videos for Scarborough, ON-based independent radio station 105.9 The Region. Views to the videos placed on the client's sites go back to the original creator.
Sproule says 105.9 The Region was Vubble's first client, and has already seen a bump in its online numbers since adding the video feed to its site in late 2015.
"The DJs at the station don't have time to create and post videos, and they also don't a reason for audiences to come to their website unless it's for contests," she says. "So we are doing a video feed with them that's being dynamically updated all the time."
Website visitors to The Region's site are up by an average of 26% and time spent has jumped by 40%, says Sproule.
She says that Vubble plans to grow its slate of clients by working with businesses that are seeking to use video to drive traffic and engagement to their sites.