Audi turns its lights on for Vancouver travellers
The auto company is the first to grace a large size digital screen at the country's second busiest airport.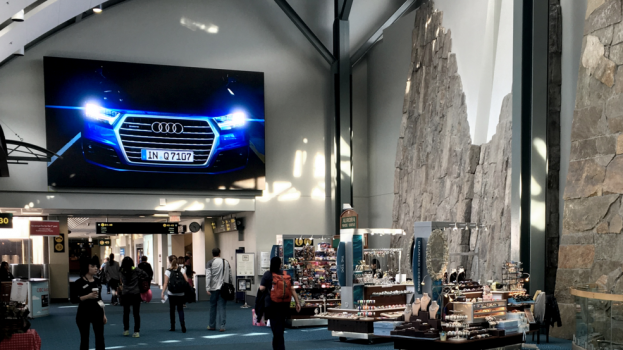 Travellers at Vancouver International Airport can't possibly miss the sight of a sleek vehicle exhibiting the strength of its horsepower.
That's because the airport has a large new digital signage space smack in the middle of the domestic terminal and the car maker has taken the opportunity to inaugurate its opening.
Audi Canada is showcasing its vehicles as the inaugural exclusive brand on Astral Out of Home's new digital screen. As part of the deal, the automaker has secured exclusive access to the screen for a one-year period, with the option of renewal. The placement gives Audi access to a large group of business travellers with annual household incomes of $100,000 and more. The average traveller makes 4.6 trips a year, according to data provided by Astral OOH, and on average spends two hours and 41 minutes in the airport on each trip.
The media partnership with Audi was brokered through MediaCom. "The prime location and digital format will allow Audi to truly own the space and forge a rich connection with consumers," Urania Agas, SVP, business director at MediaCom stated in a press release.
The advertiser has full control over display on the "Great Central Wall," which is 12′ by 21′ LED screen in the Air Canada domestic terminal.
The screen is the first of several new digital screens the OOH company plans to unveil at the Vancouver airport, an eight-year contract it won in June last year. The company plans to announce new digital screens at departures and arrivals in the airport aiming to give buyers a number of ways (long and short-term buys) and places to reach travellers.
Vancouver airport is the second busiest airport in the country serving just over 20 million passengers annually, 52% of which are domestic travellers.