TSN launches tournament takeover
The sports channel has launched its first station domination, promoting an upcoming set of tournaments.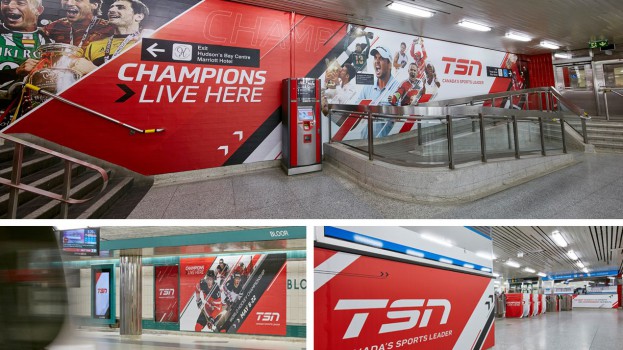 The fight for sports viewers never sleeps, with Rogers Media and Bell Media constantly waging their own nail-biting series.
TSN's latest play has it promoting the upcoming busy tournament season to Toronto commuters.
As part of its ongoing "Champions Live Here" campaign, which launched during the Super Bowl and focuses on the more-than 60 tournaments that air on the channel, TSN has launched a takeover of Yonge-Bloor station in Toronto.
The domination features 178 pieces of unique creative, including 70 4 ft. X 6 ft. posters, 51 unique posters along the escalators and station walls, six wall murals and two full-motion LCD digital screens. Media and creative for the station domination was done in-house by the Bell Media Agency.
Jon Arklay, SVP, Bell Media Agency, said that though the championship focus is set to run for the foreseeable future, this month-long slot was earmarked to promote a particularly event-heavy time of year for TSN. It is currently running the 2016 IIHF World Championship and the NBA Playoffs, and has events like EURO 2016, the French Open and Wimbledon coming up. Images of athletes from each of the events are highlighted in the TTC creative.
Arklay said the Yonge-Bloor takeover was chosen because of the potential for major impact. According to numbers from Bell Media, the campaign will see over 409,000 impressions on a daily basis at the station.
In addition to the station domination, TSN will be launching the TV equivalent with a two-and-a-half minutes-long spot that will air on the station soon.