Lacroix outlines CBC's digital present and future
The pubcaster's CEO and president Hubert T. Lacroix (pictured) discussed his company's digital transition at UBC on Tuesday evening.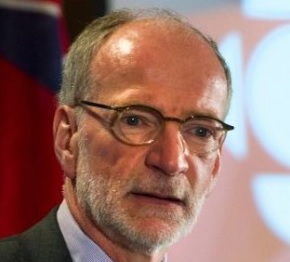 "If we were starting over, the smart money would invest everything into digital. But we didn't start with a blank canvas," said CBC president and CEO Hubert T. Lacroix on Tuesday at the University of British Columbia.
Lacroix was speaking to the challenges the broadcaster faces while transitioning to a digital-first framework, a strategy CBC first outlined in June 2014. Since then, he said, more than 1,260 employees have received training for additional digital skills, while a further 630 have taken business training to support the CBC's "Strategy 2020: A space for us all." 
Of the caster's digital strategy to date, Lacroix said 15 million Canadians are using CBC/Radio-Canada's digital sites every month – an increase of three million in the space of a year. As well, half of those 15 million are accessing CBC's digital platforms through their smartphones.
The CBC is looking to hire the "next generation of digital creators," he added, with 150 positions already having been filled and another 300 to be filled before 2020. Lacroix did not avoid referencing the impact of job cuts at the Ceeb, which had targeted 1500 jobs by 2020, admitting that the transition had not been without hardship. 
Whether or not that target remains in place is still unclear, following the Liberal government's announcement of $75 million in funding for the CBC in 2016-17, followed by $150 million each year through 2020-21. Of the reinvestment, Lacroix only said, "We want Canadians to be amazed with what a re-investment in public broadcasting can do. And, it's more than the money. It's what this reinvestment represents. It's a vote of confidence in the value of our programs and in our vision for the future."
Lacroix also had a message for those who "believe the solution is to make public broadcasting smaller." The opinion that if "CBC was somehow prevented from having local websites or a digital-first strategy, that newspapers would be more profitable" was false, he said. Limiting the CBC's remit, he continued, would be a mistake.
"Some private broadcasters have suggested that the solution to their declining revenue is to limit what CBC does for Canadians to some sort of 'status quo' or to make us 'gap fillers.' This view is as short-sighted as it is mistaken. Let me be clear about this point. Undermining public broadcasting will not help private companies make more money," he said. "It won't help Canadians find out more about what is happening in their communities. It won't create more great Canadian programs," he added.
Looking ahead, Lacroix said that the decline in advertising is continuing to have a negative impact on the ability of both public and private broadcasters to create good Canadian programs and that the system needs to be revisited. "A modern broadcasting business model needs to reflect modern business realities in our ecosystem. The current one is still broken," he said.
Lacroix went on to say that the Cancon consultations scheduled for summer 2016 are an "important step in addressing this challenge," and that the CBC will provide whatever support it can for the review of Canada's content creation industries.