Vancouver digital pub expands national footprint
Two Vancouverites have grown their basement business into a national digital brand targeting millennials.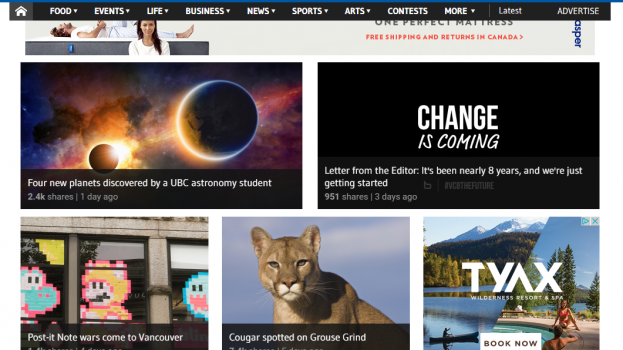 A digital publication born in a Vancouver basement is testing the national waters.
Daily Hive is a new national lifestyle website covering the urban food and street culture of four Canadian cities: Vancouver, Toronto, Montreal and Calgary.
Previously operated locally as VanCity Buzz, the decision to scale up was based on the publication's success in Vancouver where the company says it has grown into the city's largest digital-only publication.
The newly coined Daily Hive will become the umbrella group for the company's four localized digital sites, each targeting millennials with hyper-local digital content. Content is tailored to the city a viewer is in and is written by native residents with a strong connection to and understanding of the city's happenings.
The burgeoning media co launched in 2008 as a side project by Vancouverites Karm Sumal and Farhan Mohammed. The friends, who were employed in 9-to-5  jobs, wanted to know more about the food and art culture landscape of their city and felt that, as millennials, they were undeserved by traditional media. So they launched Vancity Buzz, adding food reviews, interviews and cultural commentary to the site in their spare time.
"The idea was to have an outlet to give a voice to people that were in our age range," Sumal said. " I had no attachment to traditional news. I had never read it or watched it on TV. It didn't resonate well with me." He said he wanted to fill the gap by writing about changes and change-makers in the city itself. The traditional news, he felt, harped on about accidents and deaths and police sirens but the voices of Vancouverites were lost in the din.
That was eight years ago. Today VanCity Buzz sees 7.5 million page views a month, about 2.2 million unique visitors and cultivates the sought-after millennial demo; its biggest audience lies in the 25-to-34 demo. And in keeping with that growth, its team has also grown from a part-time team of two to 25. 
Monetization for the site is based on sponsored articles, banner ads and sponsored social media advertising. The brand is also working on building up its video assets and is developing a video department.
Last year the company expanded its concept to the Calgary market, launching Calgary Buzz and using the city as a testing ground for the upcoming Daily Hive.
The Daily Hive launches across four markets today.