Bell Media introduces new upfront deals
Dynamic ad insertion on VOD and a new short-form video product were among the launches introduced at the media co's presentation.
Who knew that Stuart Garvie, president of Bell Media Sales, had so much in common with talk show host and media personality of the moment, James Corden?
The audience at last night's Bell Media upfront found out about the similarities between the two, who are from towns in England that are only five minutes apart. (Hazelmere, which is where Corden is from is actually a suburb of High Wycombe, Garvie's hometown). And while the two also have other similarities: two children (a boy and girl each) and an enduring love for football, last night's event also highlighted a key difference (ahem, singing ability), when Garvie took to the streets for his own version of Corden's hit segment, "Carpool Karaoke," with Jann Arden, Omnicom's Fred Forster, Starcom's Anne Myers and MEC's Alastair Taylor providing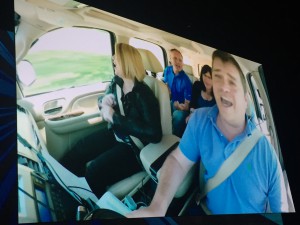 backup vocal support.
But it wasn't long before the Bell Media team got down to business, introducing new products like dynamic ad insertion for VOD and a short-form video product called Snackable TV, that it will be rolling out in more details in the coming months.
Garvie said his team will be going to market with new partnerships, like the one announced earlier this week for programmatic linear and digital video content with Videology, in the near future.
While no official launch details have been made available, Randy Lennox, president, entertainment production and broadcasting, Bell Media, described Snackable TV as an ad-funded short-form platform for videos between 30 and 90 seconds in length. Noting the media co has secured deals for the content to be shown in Canadian airports, Lennox said initial series on the platform will include satirical news clips from The Beaverton and an original series called Ryan's Side.
Continuing the broadcaster trend of dispelling rumours about the demise of TV viewing, Perry MacDonald, SVP, English TV and local sales, Bell Media, also took to the stage to announce a set of new upfront deals for clients.
In addition to providing a 100% guarantee on CTV upfront bookings against the primary demo, MacDonald said that clients will be able to get the same guarantee for specialty channels bought in combination with the main network.
MacDonald also alluded to more tools coming for the media co's research and sales teams, including using return path data, building out options for brand-based data and response campaigns and testing synchronization with online advertising.