Spotted! Dory keeps swimming
Walt Disney Studios Canada is promoting the fish-filled sequel with a mobile tank ahead of this Friday's release.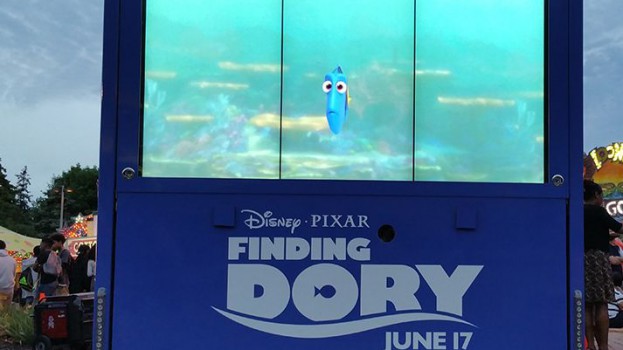 Walt Disney Studios Canada is bringing the stars of its upcoming release Finding Dory to the streets of Ontario and Quebec the only way it can – in a fish tank.
The company is promoting this Friday's release with a mobile tank featuring high-definition screens that show Dory, Hank, Nemo and other characters from the film in an animated aquarium. The movie's star octopus, Hank, also plays paparazzi with passersby, taking photos of people from inside the tank. Those images are emailed to the photo subjects, where they are encouraged to be shared on social media.
The tank is a Canada-specific promotion for the movie, and was created by Walt Disney Studios Canada in partnership with Simon Pure Marketing Inc.
Having stopped in Montreal, Ottawa and Pickering already, the mobile tank is in Toronto this week, downtown near the Rogers Centre for the Toronto Blue Jays game this evening and at the Evergreen Brick Works on Wednesday through Friday.