Sport Chek teams with Twitter for Olympic 'moment'
The retailer is the Canadian launch partner for Twitter Canada's Moment Maker, a new tool that allows for custom curation.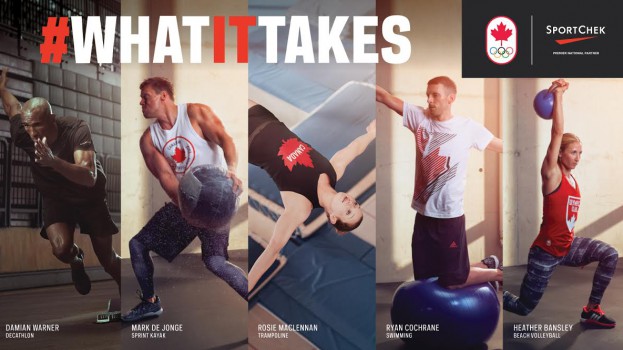 Twitter Canada is using the Rio Olympics as a launch pad for its newest update Moments, which can soon be curated by just about anyone.
Beginning today with launch brand partner Sport Chek, and eventually expanding to include all of Twitter's users, the Moments update opens up creative control for the tool, which first launched in April.
Mark Binkley, social media marketing manager, FGL Sports, says Sport Chek will be customizing Twitter Moments by gathering tweets from its list of represented Canadian athletes, like kayaker Mark de Jonge, rugby player Magali Harvey and decathlete Damian Warner.
The retailer's involvement with Twitter's newest update is in line with its mobile-first approach to Rio, where over 50% of Sport Chek's spend is focused.
Sport Chek has also launched conversational videos on Twitter, encouraging users to tweet congratulations at Canadian athletes a day before their completion, and replying with a handful of pre-taped responses from each competitor.
Elsewhere online, Sport Chek is partnering with Facebook on Canvas and Carousel ad units, with Snapchat on a Promoted Lens around the closing ceremony and with YouTube on TrueView ads that go live when key moments, like Canada winning Gold, are achieved.
With so many social media pieces in the air, Binkley said Sport Chek ran tests around smaller scale events like the Super Bowl, NBA All-Star Game to work out the kinks in its real-time content creation.
Binkley said the last Olympics taught the Sport Chek team that they wanted to have more shareable content produced in advance of the games, for example creating pieces around each event decathlete Damian Warner competes in. The other key learning was to have legal team members available on hand in the content war room, where pieces are being created round the clock during the games, he said. That war room will be pushing out "hundreds and hundreds" of content pieces that the retailer has going live during Rio in two shifts through the Olympics.
It all ladders up to the retailer's goal of achieving share of voice and initiating conversations during the games, said Binkley.