Twitter launches Promoted Stickers
Pepsi has signed on as the first partner for the new ad product.
Soda drinkers will be seeing a host of new emojis on Twitter, with Pepsi on as the launch partner for Promoted #Stickers, which are live this morning.
Stickers are emojis and other photo accessories that can be added to an image before its posted online. Twitter added them to its platform this June, after the tool gained popularity on Snapchat. Stickers also act as a visual hashtag on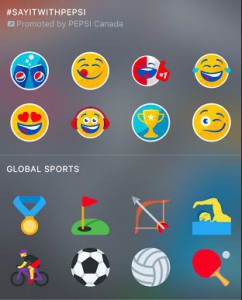 Twitter, with users able to click on them and see other people who have used the same icons.
Pepsi is the global launch partner for the ad version, with Promoted #Stickers going live in 10 countries, including Canada and the U.S. The partnership is the largest between Pepsi and Twitter to date, according to a release on the launch. The drink company will integrate its global "PepsiMoji" campaign into Twitter, making almost 50 custom stickers associated with the campaign available to Twitter users.
The new ad launch comes on the heels of eMarketer downgrading its 2016 growth forecast for Twitter users in the U.S. Previously predicting a jump of 8% in users for the year, the research company is now estimating growth to come in around 2%.
Twitter Canada announced the addition of Andrea MacDonald to its sales team late last week.