Need a good movie recco? Just ask TIFFBOT
That's the point of the festival's AI buddy who has been launched on Facebook to "help [audiences] navigate TIFF madness."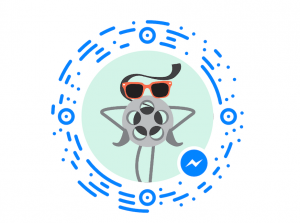 Chatbots are on the ascendancy, and nothing marks the AI creatures' meteoric rise (and a sign of the changing times) more than a landing at a festival chock-full of of artistic creators.
The TIFFBOT is an AI Facebook bot that can help folks interested in the festival to decide which films to see, based on their interests and the bots ability to filter a few choices based on those interests.
Bots are, after all, in the business of service delivery. TIFFBOT's rounded stomach and his cool shades, are designed to indicate he has two requisite skills: a beastly appetite for films coupled with a critical mind that can categorize and checklist each film's potential.
The idea for TIFFBOT came out of a partnership between two Toronto shops: communication agency 88 Creative and digital product agency The Working Group. Erin Bury, managing director, 88 Creative and Rob Kenedi, entrepreneur-in-residence at TWG had multiple conversations about tapping into the bot space and launched TIFFBOT with the goal of giving festival goers a little bit of help with digesting the sheer volume of the film inventory on offer.
Bury told MiC that in researching new opportunities she realized the "myriad opportunities that existed for companies to leverage bots for marketing, customer service, sales, and content distribution."
The fact that users could interact with TIFFBOT directly on Facebook and not have to download a separate app to take advantage of its existence was a big plus, she said. 
Bots have become brand darlings recently, inspired by the leviathan that is Facebook. At its annual Facebook developer conference in spring this year, the company announced that it was opening the gateway for brand bots. Social media platform Kik had launched bots on its messaging platform some time ago, and the mobile sporting app the Score launched a bot to reach Facebook's close to a billion-strong audience as an inaugural partner in April.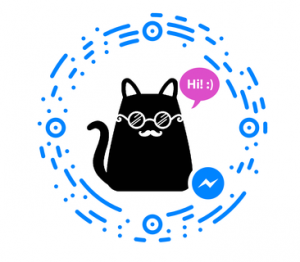 Design for the bot was inspired in part by Mica, the Hipster Cat Bot (see image, right), explained Kenedi. The hipster-focused bot provides her community with advice and suggestions.
The team has been promoting the arrival of the TIFFBOT through media outreach in tech and Toronto's cultural pubs, as well as through social media. In the two weeks leading up to TIFF (i.e. now) the team will lean on Facebook ads to drive awareness and usage of the bot.
"Since TIFFBOT lives in the Facebook ecosystem, we wanted to go digital-first with our promotion and only buy ad space on Facebook," said Bury.