Metroland focuses on digital with new senior hire
Shifting some of the focus on the company away from print is the task of new head of national digital revenue Robert Meth.
Robert Meth has worked at media software companies, agencies and media companies over the course of his over 15-year career. He says that his new role as head of national digital revenue at Metroland brings all of that past experience together.
Metroland Media, a Torstar subsidiary, owns community newspapers including The Georgetown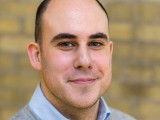 Independent/Acton Free Press, The Barrie Advance and The Beach Mirror, as well as operating a direct mail business and magazines including Boatguide and Taste.
Meth is tasked with expanding revenue on the company's digital properties, which include 40 community news sites like Thespec.com,Yorkregion.com and Durhamregion.com as well as content verticals like Wheels.com and Homefinder.ca and digital commerce properties Save.ca and WagJag.
Meth said the appeal of moving to Metroland from his most recent position as head of enterprise sales at TubeMogul was the opportunity to work on what he deems a "digital transformation story." Prior to joining TubeMogul in early 2015 Meth worked as director of new business and marketing at MediaCom Canada.
"Metroland has traditionally been known for flyers and the print side of the business," he said. "We will be focusing on working on the sales side to tell that story and monetize that content."