Peterborough radio station hosts funeral giveaway
A low-power FM station hopes to generate some controversy - as well as some serious conversation - with its new social media contest.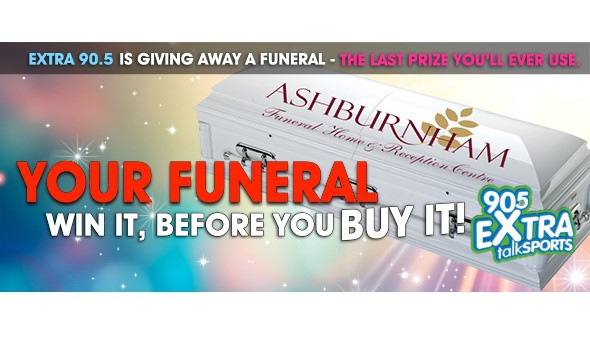 Extra Peterborough is planning on giving away, in its words, "The last prize you'll ever use!"
The low-power FM station, which is part of indie broadcaster group My Broadcast Corporation, is drumming up some attention — and hopefully a bit of controversy, said station GM Rob Mise — with a contest in which it offers to give away a funeral.
"We've never done anything like this before, but I've been wanting to do this for a long time," Mise told MiC, saying he got the idea from a radio station in Bavaria, Germany. The station hosted a similar contest in 2011, which generated a great deal of controversy and even a lawsuit.
While Mise said he welcomed controversy for his small station (which has a limited licence and can't play music, instead hosting Jays games, Leafs Games and talk shows), he estimated that the response to the contest has been "about 95% positive" and has generated conversations online about end-of-life planning.
"The contest isn't about being mean-spirited. Funerals are a big expense, so if we can shed a little light, that's a great outcome."
The contest is being promoted on Extra Peterborough's station, site and social media properties. It's sponsored by Peterborough's Ashburnham Funeral Home and requires participants (who must be over the age of 18) to fill out an entry form and use the "#extrafuneral" hashtag in a social media post.
Mise said the entries for the contest have been "in the hundreds" in the several days since its launch which, for the humble station, has been impressive. What surprised him most was the demographic of the entries
"I'm shocked at the number of entries we have between the ages of 25 and 34," Mise told MiC. "A good chunk are in that demographic, but it's great that it's taking away the stigma around funerals for that age group."
The contest closes Oct. 28.