Massively hires its first sales lead
Chris Faulds, formerly of Bell Media, is joining the chat bot company as messenger platforms increasingly open up to brands.
Chat bots have reached the tipping point. That's according to Russell Ward, president at chat bot development company Massively, which launched in 2014.
The shift happened in April when Facebook allowed brand bots within its Facebook Messenger app, he said.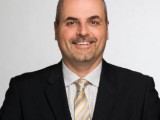 "It became apparent that there was a real opportunity to connect," said Ward. "It was time to start taking our solution to market."
Massively has worked with companies including 20th Century Fox, Focus Features and GE on bots. To scale up its brand involvement the company has hired its first head of sales.
Chris Faulds joins Massively in the role, responsible for developing the company's growing portfolio, including projects in branded chat and digital marketing executions.
Ward describes Massively's involvement with agencies and brands as less of an ad model and more of a service management one. Long term, he said he sees agencies and brands using Massively's platform to build and use their own bots.
Faulds comes to Massively with experience at media companies including Bell Media and World Wrestling Entertainment Canada. At Bell Media Faulds worked for over eight years as group sales manager, digital media, sales and entertainment.