Postmedia renews Paul Godfrey's contract
The media co's president and CEO will continue in his position until at least 2020, as the company continues to navigate the various blows to the print media industry.
Postmedia president and CEO Paul Godfrey will continue in his position  until at least Dec. 31, 2020.
The media company's board of directors voted on Nov. 1 to extend Godfrey's contract.
Postmedia owns and operates more than 200 news and media properties including community papers, specialty publications and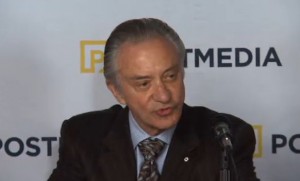 dailies, including the National Post and Sun titles. Godfrey has been at the helm of Postmedia and Postmedia Network Inc. since it was formed in July 2010.
Like other primarily legacy media companies, Postmedia has dealt with various challenges associated mainly with declining print revenue. In its recently announced Q4 results, the company reported a net loss of $99.4 million for the period, resulting in a net loss of $352.5 million for the fiscal year (compared with $263.4 million the year before). It also reported a sharp decline in print advertising revenue and plans to cut staff costs by 20%.
This past May, Godfrey issued a plea to the federal government to do more in order to help newspapers survive, and later re-stated his position to MiC, adding, "there's no one standing up in our industry right now and saying, 'I don't know what Godfrey's talking about because we're doing great.' No one's saying that."